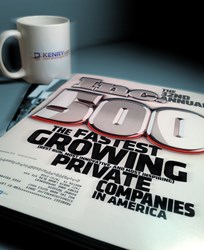 The Austin, TX based company also ranked as the 12th fastest growing company in the Austin metro area
Austin, TX (PRWEB) October 11, 2013
Kenry Home Improvement Inc, one of the largest online retailers for home improvement products in the US, ranked number 424 on Inc. 500I5000 list of the fastest growing private companies this year. This prestigious list is compiled every year by Inc., a leading business website and magazine, and creates a profile for the top 500 and 5000 private employee based companies in the United States. The ranking takes into account multiple factors including the amount of growth in a three year period, annual revenue, and number of jobs added.
With over 7 million private companies in America, making it to the top 5000 list of quickest growing private companies is a prestigious achievement. As an Inc500|5000 honoree, Kenry Home Improvement now joins an elite group of companies that include Intuit, Zappos, Under Armor, Microsoft, Jamba Juice, Timberland, Pandora, Patagonia, Oracle and dozens of other notable recent alumni. "This kind of accomplishment is truly worth celebrating", said Eric Schurenberg, editor-in-chief of Inc. Magazine.
Kenry Home Improvement owns and operates two e-retail sites serving the two biggest sectors in home improvement products. MainFaucet.com offers everything kitchen and bathroom related including sinks, faucets, showers and fixtures. LightingCity.com is Kenry's residential and commercial lighting fixture store. Ashraf Hossain, President and CEO of Kenry Home Improvement, attributes the impressive growth over the years to his talented team of sales and support specialists: "We have a dedicated group of people who have established a culture of commitment to our customers. Our customers have a seamless shopping experience at our ecommerce sites; they know they are getting the most competitive prices, and they can rely on our support specialists in case of any unforeseen issues with their order."
On top of ranking 424 on the Inc. 5000 list of all US companies, Kenry Home Improvement also ranked number 24 on Inc. 5000's list of top retail companies. The Austin, TX based company also ranked as the No. 12 fastest growing company in the Austin metro area.
About Kenry Home Improvement: The Kenry Home Improvement Network is the parent company of some of the top online home improvement retail sites on the web. The Austin, TX based company was founded in early 1999 and has since risen to become a leader in the online home improvement retail industry. Kenry Home Improvement's sites include MainFaucet.com and LightingCity.com. Both sites offer thousands of leading brands and products that have unparalleled quality and design. At the same time, unlike their leading competitors, they maintain the lowest prices around the web.
About Inc. 500I5000: Inc. published its first magazine issue in 1979 and has since risen to become one of today's best tools for beginning and seasoned entrepreneurs alike. Inc. first introduced its annual list of the top 500 fastest growing privately owned companies in the U.S. in 1982. Since then, they have expanded it to the top 5000 companies with a special ranking for the top 10% of the list as the Inc. 500.