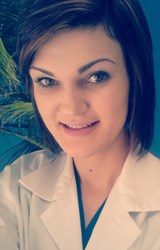 Prescott, Arizona (PRWEB) October 01, 2013
Robin Fleck, M.D., founder and medical director of Body Oasis Laser Aesthetics & Day Spa is pleased to announce that Monique Ridgeway has joined the staff in Prescott, Arizona as beauty and nail consultant. Originally from Santa Barbara, California, she is a recent graduate of Empire Beauty School where she studied cosmetology. During her training, she was a runner-up in one of the largest makeup and hair competitions in the U.S, Pro Expo, on June 26, 2013, in Hershey Pennsylvania. Monique's true passion is to provide expert skin and nail care. She is certified in airbrush makeup, as well as nails and facials. She is also currently employed with StarStruck! Event Planning, where she does makeup and hair for special occasions and weddings.
Monique's focus is on providing outstanding client experience at Body Oasis MediSpa while also maintaining a safe spa environment. Patients enjoy spa pedicures in a whirlpool massage chair that is thoroughly disinfected following the FDA and CDC guidelines for the prevention of toenail fungus. Pedicures include callous and cuticle care, using implements that are approved by the Cosmetology Board of Arizona. Pedicures also include a deluxe massage, as well as polish of the client's choice.
Spa manicures include a warm oil massage, cuticle care, shaping and smoothing of the nail surface, followed by polish of the client's choice. She generally recommends either of these treatments for anyone with rough callouses, dry cuticles, nail ridges, or someone who is simply interested in general upkeep for healthy nails. For arthritis pains and extremely rough hands or feet, the paraffin wax treatment following either service, deeply moisturizes and soothes pain.
Monique also performs Body Oasis spa's exclusive Vitamin C facial treatment. Dr. Fleck recommends this natural facial service for all skin types because the antioxidant Vitamin C helps to naturally nourish and improve the appearance of skin affected by wrinkles, fine lines, age spots, acne, and keratosis. Only the highest quality products are used which are free of fragrances, parabens, propylene glycol, and preservatives. This facial treatment is not only relaxing, but rejuvenates the skin without removing essential skin layers with harsh peels or microdermabrasion. For optimal results, she recommends this sixty minute service every one to two months.
In addition to the services Monique provides, she also maintains the reception area of the Body Oasis Laser Aesthetics & Day Spa office. She writes press releases, contributes postings to the social network sites for the business, schedules appointments, and conducts consultations using the Visia Complexion Analysis System. With the expertise and guidance of Dr. Fleck, Monique has developed an eye for proper skin analysis to assist the client in discovering their most attractive features and how to emphasize them. "Whether wrinkles or age spots mar beautiful eyes, or scars and sun damage distract from high sculpted cheek bones, at Body Oasis we are well-equipped to find a solution," comments Monique.
Body Oasis Laser Aesthetics not only provides exceptional spa treatments, but also offers a multitude of laser treatments performed by Dr. Fleck and her laser tech. Body Oasis boasts a variety of lasers for resurfacing of face and neck, tightening the neck and jowls, hair removal on any skin type, toenail fungus treatment, permanent tattoo removal, spider vein removal, and redness reduction. "We invite our clients to relax and rejuvenate," adds Monique.
Cosmetic dermatologist, Robin Fleck, M.D., is a double board certified dermatologist and internist, recognized by the American Board of Dermatology and the American Board of Internal Medicine. She is founder and Medical Director of Southwest Skin and Cancer Institute and Body Oasis Laser Aesthetics http://www.rejuvadoc.com. Dr. Fleck is a fellow of the American Society of Laser Medicine and Surgery and the American Academy of Dermatology. She is also the director of Vein Specialties in Prescott, Arizona and is a member of the American Venous Forum.