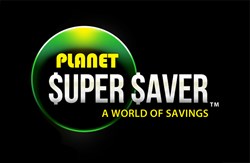 We pride ourselves in encouraging repeat business for our merchants from satisfied customers.
Tempe, AZ (PRWEB) October 04, 2013
Auto Care Super Saver has rebranded the company to Planet Super Saver – A world of savings. PlanetSuperSaver.com has launched a new website introducing the new name and positioning.
PlanetSuperSaver.com now touts the availability of discount coupon vouchers and incentive programs for the auto care, dry cleaning, windshield repair and car wash industries. Future plans encompass the inclusion of discount cards for dining, travel, entertainment and a marketplace environment for all its products and services.
For consumers – a world of savings
With more than one million discount voucher member cards distributed nationwide in the past 25 years, customers have saved millions of dollars when using Planet Super Saver merchant service provider locations.
Planet Super Saver's new approach invites customers to make referrals for their favorite mechanic, shop, restaurant or entertainment hotspot. Then they earn discount credits and cash rewards for their referrals.
Customers order multiple types of discount cards online that give savings of 50% to 90% off the retail price. Services are redeemed by card, voucher, or coupon. When a voucher card arrives or is printed, customers can expect to receive both free and heavily discounted services for the discount program they select, redeemable at the Planet Super Saver local partnering merchant. The purchase of a discount card also entitles customers to special "VIP Services" exclusive deal days and other discounted email offers throughout the year.
There are plans for the company to be paperless using a Smartphone for redemption by the end of the year.
For merchants – a world of opportunity
Merchants who work with Planet Super Saver receive virtually free marketing through the planetsupersaver.com website, door-to-door sales, and other third party vendors like LivingSocial and almost 50 other deal websites.
"Planet Super Saver is proud of our solid partnerships with these other discount websites," advised Jon Blanc, Director of Onsite Business Operations. "We strongly encourage co-marketing efforts on our partner, merchant and other affiliate websites that support these types of consumer discount programs."
Businesses who become a merchant partner with Planet Super Saver can expect to gain many new customers. Most receive a minimum of 500 new customers from the program and average over 90% as repeat customers annually. Participating merchants incur no upfront costs and gain the chance to earn merchant rewards and cash rebates for participation in our programs, local exclusivity in their defined area and Planet Super Savers' 25 years of experience.
"We pride ourselves in encouraging repeat business for our merchants from satisfied customers." said Tim Nordahl who founded the company in 1988 and is a pioneer in discount door-to-door consumer sales. The new website offers "Live Chat" so customers can seek guidance in real time to answer questions that arise in the purchasing process. "It's all about the customer, the merchant and our partnerships" according to Nordahl.
Consumers continually use the Internet to find good deals on things they need to do on a regular basis, like auto repair, dry cleaning and more. Planet Super Saver is well-poised to make these deals easy for consumers to find and use, while giving our participating merchants easy access to new customers.
It's a world of savings for consumers and a world of growth potential for merchants. It's the best of both worlds for everyone that participates in these discount programs.
About Planet Super Saver
Located in Tempe, AZ, Planet Super Saver is a subsidiary of Top Gun Promotions, Inc. (also known to consumers as Auto Care Super Saver and Dry Clean Super Saver in its other divisions) and was established in 1988. It was formed to save consumers significant dollars on automotive maintenance and repairs through its discount card and voucher redemption programs. The programs unite consumers with trustworthy service centers in their local area to offer significant savings. The merchants receive exposure to new customers with whom they can develop long-term, professional relationships. Planet Super Saver has served over one million customers and currently partners with more than 1,000 merchants in the auto care, dry cleaning, auto glass repair and car wash industries nationwide. The discount coupon voucher consumer/merchant network is set to continue growth throughout the United States and expand into Canada, Mexico and Europe.