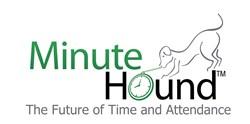 The typical return on investment with MinuteHound is a whopping 2300 percent
New York, NY (PRWEB) October 29, 2013
Most of the common payroll overcharges are easy to resolve with MinuteHound's biometric fingerprint technology. Whether it's time card errors or employees' mischief, MinuteHound's time attendance technology will reduce the likelihood that any employer will overpay at payroll time. Dealing with Country office buildings, the new software from MinuteHound is easily installed, simple to use, and improves efficiency in the workplace.
"We are an innovative, easy-to-use, cost-effective solution," said a representative of MinuteHound. "After the easy implementation of our services, we immediately generate real-time detailed reports for our clients, and they enjoy cost savings of five percent and more."
By placing a finger in a MinuteHound fingerprint reader, county and state employees can sign in and sign out of work at a reader connected to a computer. This eliminates the four scourges of payroll errors:
1. Time clock errors
2. Buddy punching
3. Time clock manipulation
4. Unapproved overtime
The typical return on investment with MinuteHound is a whopping 2300 percent. Time theft amounts to five to ten percent of payroll costs, according to the American Payroll Association.
MinuteHound provides detailed time and attendance reports that employers will be able check every minute by logging in to see who has shown up for work and how many hours they are working. The data is stored via the cloud for easy access.
Cloud Based
The cloud-based storage saves employers hassles because the information is stored offsite and cannot be accessed by employees in the office. Regardless of where their clients are in the world, by using MinuteHound managers are able to access the files they need. In addition, this provides an indisputable record of proof in case of any litigation from employees.
With the use of MinuteHound's fingerprint technology, companies get rid of punch machines and time cards and start using a system that typically costs the clients pennies a day. The savings are immediate and with MinuteHound's biometric technology, long lasting. Employees cannot leave early or come in late without their supervisor knowing about it immediately. The real time factor is the best part.
Employers can finally adjust their staffing based on their current needs in real time to best realize the resources the employees represent.
It has never been easier to deal with employee tardiness and payroll abuse. Not only does MinuteHound offer round-the-clock support, the fingerprint technology is plug-and-play, making installation and training a non-factor. The biometric fingerprint uses 128-bit encryption to transfer data offsite. MinuteHound offers a money back guarantee if clients are not satisfied.
MinuteHound Contact Information
Website: http://www.MinuteHound.com
Email: info(at)MinuteHound(dot)com
Phone: (800) 351-7237