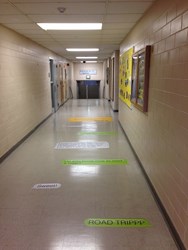 "Our goal is behavioral change and to know that we've reached thousands of teens this year with this message is very rewarding!" Emily Wilfong, PR Manager, Safety Programs, Colorado Department of Transportation
Denver, CO (PRWEB) October 09, 2013
School is back in session and Colorado Department of Transportation (CDOT) is serious about impacting teens with their safe-driving messages!
Texting while driving statistics are rising and CDOT is determined to see that change. Did you know that a texting driver is 23 times more likely to crash than a non-texting driver? These messages are going directly to those who need it most...teens! Creating a strategic partnership with Sports Image-Denver, they will accomplish their first ever Teen Distracted Driving Campaign in local high schools in the Denver metro area.
CDOT, with a little help from the creative minds at Amélie Company, has created a safe-driving campaign unlike any other. Their goal was to directly reach high school students at several local high school campuses. Another vital partnership is Sports Image-Denver due to their great relationships with high school administrators. Sports Image-Denver partners corporate brands with high schools, building good will for the brands while generating revenue for the schools. To date, Sports Image-Denver has given nearly $75,000 in cash donations and new equipment to Denver-area schools.
CDOT and Amélie Company created a texting conversation that was installed as floor graphics in a prominent location in each of the schools. This unique approach captured the attention of the teens while re-enforcing the dangers of driving distracted. In addition, CDOT will be engaging the students at each campus in a creative project. Having the teens become invested in a project adds to message retention and, hopefully, to behavior change.
In all, eight schools from five different school districts are represented in the CDOT Teen Distracted Driving Campaign. From the Jefferson County School District, Wheat Ridge High School; from the Denver Public School District, Abraham Lincoln High School, and Denver East High School; from the Cherry Creek School District, Smoky Hill High School, and Cherry Creek High School; from the Douglas County School District, Legend High School; and from the Boulder School District, Boulder High School.
To find out more about teen driver safety, visit http://www.coteendriver.com.