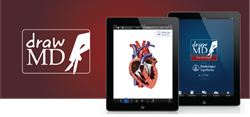 We are proud to be collaborating with Boehringer Ingelheim to help continue to deliver patient education tools to cardiology specialists and their patients.
Austin, Texas (PRWEB) October 02, 2013
Visible Health announced today a collaboration with Boehringer Ingelheim Pharmaceuticals, Inc. to sponsor the popular drawMD Cardiology patient education app for the iPad. The drawMD app for the iPad allows doctors to create visual images that can be used to guide conversations about medical and surgical conditions and procedures with their patients. This announcement coincides with a major update to the drawMD Cardiology app, as well as access to Visible Health Connect, a new platform which will become the basis of future features to enhance patient-clinician collaboration. With over 425,000 App Store downloads and hailed as a "must-have" iPad app for physicians, drawMD is one of the top apps used by medical professionals at the point of care.
"Boehringer Ingelheim is continuously searching for new and innovative ways to help improve the lives of patients and we believe improving the patient-physician dialogue is crucial to successful patient care," said Jon Doniger, director of eBusiness, Boehringer Ingelheim Pharmaceuticals, Inc. "The drawMD platform enhances this communication and we are excited to collaborate with a leader in this space."
The drawMD series has been completely redesigned with the release of drawMD 3. Incorporated in the release are a multitude of usability enhancements and feature requests, including:

Better organization of backgrounds, stamps, and saved drawings
Enhanced stamp manipulation tools
Full screen drawing and presentation mode
New layers tool that gives you much finer grained control over visibility
Search and filter stamps, as well as apply any stamp within the app to any background
Finally, drawMD Cardiology now includes access to Visible Health Connect, a cloud-collaboration platform that provides a number of valuable new features within drawMD:
Save profile information so it can be easily shared to patients along with shared drawings
Instant access to content updates when they become available without having to wait for an app update
Ability to request new artwork to be included in the app
Access to the Visible Health Community to discuss features and uses for drawMD
John Cox, CEO of Visible Health, commented: "We are proud to be collaborating with Boehringer Ingelheim to help continue to deliver patient education tools to cardiology specialists and their patients. The sponsorship combined with the new release of drawMD Cardiology creates a valuable asset for our medical professional users."
Dr. Alexander Kutikov, Urologic Oncologist and co-founder of Visible Health commented on the new release: "As physicians, we conceived and built this tool for medical professionals to advance the patient education experience at the point of care. The latest updates to the cardiology app have been made in response to requests from our clinician users, as well as from our own experience using drawMD. drawMD was built by doctors for doctors with the goal of supporting a more efficient, but also a more effective patient-physician encounter. With the introduction of Visible Health Connect, we can begin to operationalize and enhance patient-clinician collaboration on a larger scale."
The application is available for iPad users free-of-charge through the Apple iTunes App Store through the following link:
About drawMD
drawMD is the flagship product of Visible Health and is the leading iPad app used by medical professionals at the point of care to help educate patients. It enhances doctor-patient communication by offering interactive visual guides as a tool for explaining complex conditions and possible medical and surgical solutions. drawMD is available for the iPad on the App Store for Urology, OB/GYN, General Surgery, Cardiology, Vascular, Female Pelvic Surgery, Otolaryngology, Pediatrics, Thoracic Surgery, Transplant, Orthopedics, Anesthesia and Critical Care, and Ophthalmology. For more information about drawMD please visit http://www.drawmd.com.
About Visible Health
Visible Health is partnering with leading healthcare product companies, institutions and organizations to make digital tools for collaborative, condition-specific patient education, patient safety and care planning available to clinical providers and their patients. Visible Health was conceived and launched by Harvard Medical School classmates Todd Morgan and Alexander Kutikov, along with technology expert John Cox, and is headquartered in Austin, Texas. For more information please visit us at http://www.visiblehealth.com.
About Boehringer Ingelheim
Boehringer Ingelheim Pharmaceuticals, Inc., based in Ridgefield, CT, is the largest U.S. subsidiary of Boehringer Ingelheim Corporation (Ridgefield, CT) and a member of the Boehringer Ingelheim group of companies.
The Boehringer Ingelheim group is one of the world's 20 leading pharmaceutical companies. Headquartered in Ingelheim, Germany, it operates globally with 140 affiliates and more than 46,000 employees. Since it was founded in 1885, the family-owned company has been committed to researching, developing, manufacturing and marketing novel medications of high therapeutic value for human and veterinary medicine.
Social responsibility is a central element of Boehringer Ingelheim's culture. Involvement in social projects, caring for employees and their families, and providing equal opportunities for all employees form the foundation of the global operations. Mutual cooperation and respect, as well as environmental protection and sustainability are intrinsic factors in all of Boehringer Ingelheim's endeavors.
In 2012, Boehringer Ingelheim achieved net sales of about $19.1 billion (14.7 billion euro). R&D expenditure in the business area Prescription Medicines corresponds to 22.5% of its net sales.
For more information please visit http://www.us.boehringer-ingelheim.com.