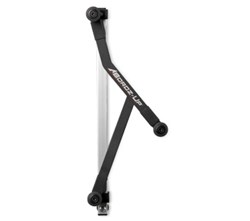 The Bordz-Up Snowboard Rack is proven to be functional, simple and the most effective way of storing a snowboard on the wall in a garage, closet or bedroom.
Aspen, Colorado (PRWEB) October 15, 2013
Cracks & Racks is selling wall-mounted, snowboard storage racks at 25% off of retail for a limited time.
The Bordz-Up GSR1000 snowboard storage rack with its unique, simple design carries snowboards securely on the wall of your home or garage while displaying the graphics of the board for all to admire.
Regularly priced at $39.99, Cracks & Racks is selling a limited supply of GSR-1000 snowboard storage racks for $29.95 Additional discounts are available for larger quantity purchases as low as $20.00 per unit.
The GSR-1000 features a "three point" gripping system that firmly holds and locks boards in place without scratching, warping or otherwise harming them. This innovative design converts the "gravitational force" generated by the weight of the board into "horizontal" pressure, which firmly locks the board in place. GSR-1000 creates the visual effect that the board is being suspended in air!
The GSR-1000 Snowboard storage rack installs with 2 screws vertically into a stud and is very is easy to use. Simply load the board into the rack with the snowboard's base against the wall and the rack self-adjusts to fit the snowboard's width perfectly. Unloading the rack is just as easy and done by lifting the board up, which releases the rack arms.

Holds 1 snowboard or longboard 6.5" to 11.75" wide
Constructed of aircraft-grade anodized aluminum and Nylon housings
Includes Protective neoprene sleeves at contact points with the boards
Includes mounting hardware for attachment into wall studs
21.5"L x expandable x 2.8"D
Weight = 1.9 lbs
"This rack has been a best selling rack in our store for many years and creates an interactive display for customers to see just how stable and easy this rack is," said Scott Vold, owner of Cracks & Racks "We find, according to many snowboarders, the graphics on today's snowboards are as important as the riding characteristics of the board, and this snowboard rack allows users to showcase those graphics without potential damage to the snowboards themselves."
About Cracks & Racks:
Founded in 1996 in Aspen, Colorado, Cracks & Racks is a specialty retailer of Automotive Racks, Accessories and Home Storage Racks. Cracks & Racks is an authorized internet retailer and a designated Thule 5-Star Dealer. Cracks & Racks operates out of a single location in Aspen, Colorado that also provides Windshield Repair and Replacement services.