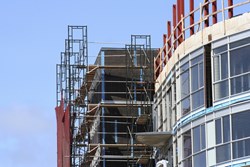 the future looks "bright," and the outlook for the success of the hotel and resort in Mexico is "rosy."
New York, NY (PRWEB) October 01, 2013
There are great things happening at Optima Development. The company recently received a loan of $260,000,000, for the expansion of its hotel and resort in Mexico. David W. Binet, president and founder of Optima Development, says he owes Hyperion Capital a big "Thank you" for helping to put his company on the map.
Hyperion Capital is an investment company based in Houston, Texas. The company is successful in helping a promising business like Binet's expand, implement change, and make a positive impact in the community.
According to Binet, his company was able to build and develop a higher quality hotel and resort in Mexico because the funding was there. Binet also stated that the funding allowed his company to hire local residents, and provide economic support to the community.
In times of economic crisis, jobs are lost, sales are down, and funds are low for everyone. Giving back to the community becomes the responsibility of thriving companies. The expansion of the hotel and resort is expected to bring more revenue into the economy.
According to Binet, the hotel and its resort is intended to be a great tourist attraction. It is a place where tourists can visit, and that everyone can be proud of. It is Binet's hope that once tourists visit the hotel and resort, they will want to come back.
Binet stated, "It's a wonderful occasion for us, and we're not so quietly strutting a bit about the progress we've made. Yet we're fully aware that our accomplishments are not simply attributable to "genius" leadership or hard-working employees. We grew and prospered only because we found a great financial partner like Hyperion Capital who helped us structure a great financial program, with a loan that will help us achieve our goal in the future."
Progress was made possible due to the generosity of Hyperion Capital. Binet stated that the amount funded allowed his company to "grow and prosper." Binet's acknowledgement of Hyperion Capital's financial backing is one that Binet and his company will not soon forget.
Binet also offered words of appreciation to all the loyal supporters who stood beside him. It has been a long road to success, but thankfully, there was help along the way. Now that Binet has gotten over the difficult part of completing the renovations and opening the doors of his new establishment, his goal is to move forward.
According to Binet, the future looks "bright," and the outlook for the success of the hotel and resort in Mexico is "rosy." Binet's hope and dreams are for everyone to share in the splendor and beauty of the newly developed hotel and resort. It is truly a great day for everyone at Optima Development.