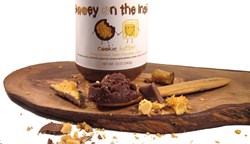 "Why should cookie butter be limited to only one flavor?" said Kafi Dublin, Creator of Gooey on the Inside
New York, NY (PRWEB) October 21, 2013
Imagine a smooth and creamy cookie that you can spread on toast, drizzle on desserts, dunk fruit into or (our personal favorite) eat by the spoonful. That's exactly what cookie butter is… a spreadable cookie. Highly trending on various social networks since being introduced to America, cookie butter has caused long queues, crowds and limited supplies.
Originating in Belgium from their classic gingerbread flavored Speculoos cookies, Speculoos in its most simplistic term is spreadable Speculoos cookies. Introduced to the American market a few short years ago in the original flavor, a self-professed cookie butter addict had an "A-ha" moment. "Why should cookie butter be limited to only one flavor?" said Kafi Dublin, creator of Gooey on the Inside. And with that rather simplistic question, Gooey on the Inside just amped-up the cookie butter game by introducing 12 flavors plus 5 Limited Edition Fall/Holiday flavors just in time for the upcoming gift-giving season.
-Red Velvet White Chocolate Cream-Cheese Frosting
-Coconut Lemon-Ginger White Chocolate Chunk
-Fluffernana
-Birthday Cake
-Chocolate Birthday Cake
-Oatmeal English-Toffee Chocolate Chunk
-Dark Chocolate Espresso Rum-Butterscotch
-Smores
-Peanut Butter Dark Chocolate Chunk
-Chocolate Chip Chunk
-Honeycomb Dark Chocolate Chunk
-Crème Brulee
-Brown Butter Cranberry-Apple Pie
-Caramel Pecan Pie
-Sweet Potato Pie
-Pretzel Candy Corn
-Earl Grey-Maple Pumpkin Spice Gingerbread
Is it worth the craziness? All signs point to yes. Forget nut butters and Nutella for the meantime. 'Tis the year of the cookie butter.