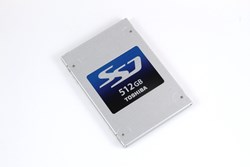 "This is the cutting edge of SSD technology. With this new range, consumers can access their applications in a blink of an eye," James Grcic, Managing Director of CSSI
Johannesburg (PRWEB) October 04, 2013
Computer Storage Services (CSSI) recently announced that it has secured exclusive distribution rights for the Toshiba Solid State Drives (SSD's). Having its own Marvel Chipset, Toshiba Storage Device Division has released a market contender product that rivals the best in the SSD playing field, and the Toshiba SSD is currently the world's fastest SSD drive in the MLC Consumer range available today. Indeed, it's been rated number one in terms of relative performance by an independent study conducted by TechPowerUp.
Demonstrating superior performance across the board, the new SSD from Toshiba ranked highly throughout the various categories which formed part of the study. It came out on top in both its Photoshop CS6 rating as well as its Windows 7 start-up time and ISO file copy time. According to the study, the Toshiba SSD also boasts the second fastest Office 2010 installation time and second fastest WinRAR compression time in its category, along with the third fastest software compilation time as well.
In spite of the fact that the new model tops the leader board in terms of performance, it remains a cost-effective option for consumers, making it onto the list of the top five SSD's in the world in terms of its performance per dollar.
Because the Toshiba SSD is amongst some of the first drives to use 19 nanometer MLC NAND flash technology, it's not only more reliable and less volatile, but also more energy efficient than older chips. The Toshiba SSD's available in capacities of 128GB, 256GB and 512GB locally was originally based on the Marvel silicon controller, a feature rich controller that has data protection algorithm built in and therefore doesn't require an external DRAM cache, which makes the model more cost effective as well.
A 2,5 inch SATA-3 (7mm) and mSATA model range are available and is compatible with all Intel Ultrabooks, and almost all Notebooks and SATA interface devices, supports TRIM and comes with a three year warranty. It has a rigid aluminium cover which further strengthens the drive and protects the internal chips. While the model uses a SATA-3, 6 Gbps interface, it is still compatible with older SATA standards.
James Grcic, Managing Director of CSSI is highly enthusiastic about the introduction of the new Toshiba SSD to the African market, saying that when it comes to most consumer requirements, there is no faster drive than this one. "This is the cutting edge of in SSD technology. With this new range, consumers can access their applications in a blink of an eye," he comments.
The Toshiba SSD is a great new addition to the CSSI range. As the only distributor in South Africa to qualify, test and endorse each and every one of its products, CSSI is known for providing the highest quality products available on the market. Each model is subject to stringent quality tests of up to eight weeks in the CSSI lab before it is able to be launched on the market.
Consumers can purchase the new Toshiba model at Incredible Connection and Matrix Warehouse as well as from on-line stores, such as Kalahari.com.
---ends---
About Computer Storage Services
Computer Storage Services (CSSI) is a leading data storage specialist providing a host of quality products and data storage services from data storage supply; hard drives, backup systems, data migration to data recovery, forensics and data archival services. It has a distribution division for disk based storage arrays, data archival and storage components and accessories. The head office is located in Midrand with office locations in Cape Town, Durban and a Serbia location catering for European Markets. CSSI has advanced data recovery labs and a research and development team focused on Data Recovery, software and storage development with technology research centres. CSSI has won a host of accolades throughout it's 13 year history from start-up and is home to the Ministers Award for Technological Excellence.