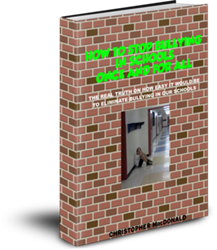 Find out what insiders are too scared to tell the public.
(PRWEB) October 01, 2013
"How to Stop Bullying in Schools Once and for All", a game-changing book by author Christopher MacDonald is now available for purchase at http://www.stopschoolbullies.com. This is a no-nonsense book with the victim's torment always in mind. It is written with the complete understanding of the plight and desperation of this crucial safety concern for students and their parents.
The book clearly explains what exactly can be done to stop and even eliminate bullying in our schools, and the reasons why bullying has gone on for so long, unabated - even though the issue has been front and center in the media for many years. It reveals what some insiders know about the problem, but will come as a surprise to most others. All obstacles to wiping out bullying in schools are presented and how each one of "The Big Three", along with other impediments, can be circumvented – by anyone with the will for change. It also clearly describes how the "bully antidote" can be applied in any school or setting.
Christopher MacDonald is familiar with the issue of bullying and has studied it for many years. His common sense approach balances a firm plan with compassion, and is a breath of fresh air from the usual rhetoric that sometimes surrounds the issue. The book is written with an urgency that understands that students, parents, educators, and other stakeholders, are in desperate need of a solution to the problem of bullying between students – on and off school grounds. The book is truly ground breaking with its well thought-out and realistic solutions to this insidious problem.
This incredible book is now available at: http://www.stopschoolbullies.com.
Christopher MacDonald lives in Canada with his wife and two children.
He is available for interviews.