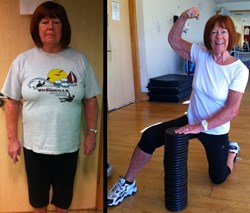 (PRWEB UK) 9 October 2013
It's never too late to get fit, as grandmother Rosie Stewart has proved by being crowned David Lloyd Leisure's PT Hero of the Year 2013.
Rosie, 67, who joined David Lloyd Belfast earlier this year, was bestowed with the coveted title by Facebook fans of Europe's premier health, sports and leisure group after winning the category, Young at Heart.
She saw off competition from five other finalists for the people's vote to win a year's complimentary membership at her club in Old Dundonald Road, Belfast.
Delighted Rosie says: "Since joining David Lloyd Belfast in March this year, I feel my life has changed. My husband also exercises much more – we both feel fitter, healthier and happier, enjoying life so much more and with more energy."
Rosie, who followed an exercise and nutrition regime with the support of her personal trainer, Sarah Dorman, recalls: "When I retired from work in 2007, I let myself go. The weight crept up and my dress size went up from a 14 to 20. Earlier this year, I was visiting my son and family in Australia and I was ashamed at how tired I got and how out of breath I was in the hills and heat of Sydney.
"On returning to the UK, I wallowed in self-pity for a month, then decided to join David Lloyd and booked a personal training consultation with Sarah. She helped me set my goals to become healthier and fitter, and to lose weight through regular exercise and sensible eating. With Sarah there to motivate me, I began to go to the gym five times a week and she monitored my nutrition. I love going to the gym, every session is different and interesting.
Rosie adds: "I feel terrific! I have lost 24kg (nearly 4st) in four-and-a-half months, and my dress size is down from 20 to 10-12. I feel full of energy and everyone tells me how well I am looking!"
David Lloyd Leisure's head of sports, health and fitness, Rob Beale, comments: "We are delighted to announce Rosie as our PT Hero of the Year. She is living proof that it's never too late to start exercising and keep healthy, and that with the motivation and support of our personal trainers, you can achieve amazing results."
The PT Hero of the Year 2013 category winners, who each receive three months' club membership free and a pair of Reebok trainers, are:

Young at Heart: Rosie Stewart, David Lloyd Belfast
Against all Odds: Edward Buckley, David Lloyd Hatfield
A Great Loss: Emma Hay, David Lloyd Aberdeen
Yummy Mummy: Becky Faulkner, David Lloyd High Wycombe
Make it Happen: Raj Bhardwaj, David Lloyd Narborough
Wildcard: Andrea Breslin, David Lloyd Milton Keynes
Ends
Note to editors:
For further information about this press release and photos, contact the David Lloyd Leisure press office on 01707 289833 or email press(at)davidlloyd(dot)co(dot)uk. Separate images of Rosie available plus of other finalists.
About David Lloyd Leisure Group
About David Lloyd Leisure Group
The David Lloyd Leisure Group operates 81 clubs in the UK and a further 10 clubs across Europe, plus the new high street concept, David Lloyd Studio, in Islington, Putney and Winchester. It has over 440,000 members and employs 6,000 people. This includes an expert health and fitness team of over 1,800, while it contracts the services of more than 400 tennis professionals. Across all clubs, David Lloyd Leisure has over 150 swimming pools (of which half are indoor) and offers over 10,000 exercise classes per week. Every week 20,000 children learn to swim at David Lloyd Leisure and 14,000 learn to play tennis. Its racquets facilities are unparalleled with 700 tennis courts as well as 180 badminton courts and 140 squash courts. Additional facilities include health and beauty spas, club lounges with free internet access, crèches, nurseries and specialist sports shops.