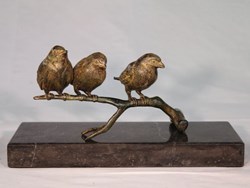 We always like to support local charities and the Michaelmas Fayre in Dummer.
Basingstoke, Hampshire (PRWEB UK) 1 October 2013
Chic Teak, a leading supplier of outdoor garden furniture, will be supporting the Youth Clubs of Hampshire and Isle of Wight charity by exhibiting at the Michaelmas Fayre in Dummer this October.
Perhaps better know for their range of high quality teak garden furniture , Chic Teak will be displaying their large range of decorative bronzes that can be displayed both inside the home or outside in the garden.
The popular annual gift fayre is bigger than ever with over 90 stalls of which 52 are new for this year. Held over two days between Wednesday 16th October and Thursday 17th October 2013 the stalls will be displaying wares from food, jewellery, clothes and general gifts.
The Chic Teak beautiful bronzes, sourced from craftsmen in Indonesia are available in a variety of shapes and sizes and feature cats, birds, figurines and other popular animals. Polished and beautifully made, all these bronzes are available on a polished marble base and look stunning on either a mantelpiece or table.
These delightful bronzes part of the Chic Teak Objet d'art collection make perfect gifts for Christmas and they expect them to attract considerable interest from the gift buying public.
The Michaelmas Fayre will be held at the Dummer Cricket Centre just off Junction 7 of the M3 clearly signed by the AA signs. Open hours are between 6.00pm and 9.00pm on Wednesday for a preview shopping evening or between 9.30am and 4.00pm on Thursday.
Chic Teak Managing Partner Robert Bowden commented: "We always like to support local charities and the Michaelmas Fayre in Dummer is the perfect opportunity to find those unusual gifts for Christmas."
The Youth Clubs of Hampshire and Isle of Wight is an organisation comprising approximately 120 youth clubs, groups and projects in Hampshire and the Isle of Wight involving some 17,500 young people and 2000 youth workers.
The aim of the charity is to help and educate young people especially, but not exclusively, through their leisure time activities so to develop their mental, physical and spiritual capacities that they may grow to full maturity as members of society, that their condition of life may be improved.
For more information on Chic Teak, the indoor and outdoor bronzes range and their teak garden furniture, visit their website at http://www.chic-teak.co.uk or telephone 0845 390 5000.