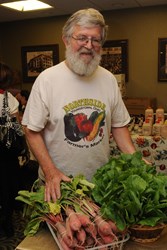 Diet has a direct impact on a person's health and well-being. That's why I am thrilled to see the hospital embracing food as part of a wellness program.
Youngstown, OH (PRWEB) October 01, 2013
After suffering a heart attack in 2007, Jim Converse, manager of the Northside Farmers' Market, underwent quintuple heart bypass surgery at St. Elizabeth Health Center in Youngstown. Last Oct. 17, after setting up for a farmers' market at St. E's, Converse suffered a second heart attack.
"It was a busy day setting up tables and at first I thought I over exerted myself or had a light heat stroke," Converse says. "I had a headache and I was sweating. I sat and rested but the symptoms persisted. Then I thought to myself, 'I think I'm having a heart attack.'"
Not wanting to draw attention to himself, Converse quietly left the first-floor lobby where the market was being held and headed for the emergency department.
Within 10 minutes, Dr. Walter Sweeney, HMHP Physician Associates, had examined Converse and confirmed that the 69-year-old farmers' market manager had another blocked vessel. Ten minutes after that, Converse was in the cath lab being prepped for a heart catherization procedure.
By the time Pat Rosenthal, Converse's wife, arrived at the hospital – one of the vendors at the farmers' market had called to tell her that Converse wasn't feeling well – Dr. Sweeney had inserted a stent into Converse's blocked artery opening the vessel and restoring blood flow.
The next day, Converse was up walking around. A rosy glow had returned to his face and he was feeling good.
"I took it easy for a couple of days but I didn't miss any farmers' markets," he boasts.
In the year since his second heart attack, Converse has completed six months of cardiac rehabilitation – three months under the guidance of health-care professionals at Humility of Mary Health Partners and three months on his own. He's also switched to a vegan diet, which means he consumes only plant-based foods – no meat or dairy – and lost 15 pounds. Converse says he hopes that losing weight and eliminating cholesterol from his diet – cholesterol is found in meat and dairy products and can contribute to coronary artery disease, leading to blocked arteries – will help maintain his heart health.
Diet has a direct impact on a person's health and well-being, Converse says, "That's why I am thrilled to see the hospital embracing food as part of a wellness program."
In addition to managing the Northside Farmers Market, which takes place on Saturdays on the grounds of the First Unitarian Church in Youngstown, Converse initiated the HMHP-sponsored monthly farmers' markets held in the private dining rooms at St. E's and on the square in downtown Warren. Vendors at these seasonal markets sell fresh and often organic produce, maple syrup, honey, grass-fed beef, eggs, cheese, butter, granola and other value-added products grown, raised or made within a 30-mile radius of Youngstown.
Converse's mission is to make healthful, locally grown fruits and vegetables readily available to everyone, especially inner-city residents who may not have easy access to a full-fledged grocery store or produce market. Among his most recent efforts is the introduction of a Lake-to-River Market Buying Club, a food cooperative owned by area farmers that offers locally grown organic produce and meat from free-range and grass-fed animals.
About Humility of Mary Health Partners:
Humility of Mary Health Partners is an integrated health system located in the Youngstown/Warren area. It is a region of Catholic Health Partners (CHP) in Cincinnati, the largest health system in Ohio and one of the largest Catholic health systems in the United States. HMHP provides a full spectrum of health care services, including inpatient, outpatient, emergency, urgent care, home care and long-term care. Members are St. Elizabeth Health Center, St. Joseph Health Center, St. Elizabeth Boardman Health Center, HM Home Health Services, The Assumption Village, Humility House, Hospice of the Valley and Laurel Lake. Learn more about HMHP online at http://www.HMpartners.org.