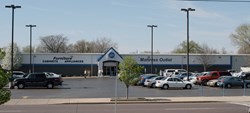 It's all about the deal!
(PRWEB) October 10, 2013
Now with the opening of the FIT 4U Sleep Center UFS has teamed with one of the premier names in the mattress industry, Kingsdown. In business in the USA since 1904 Kingsdown has been one of the finest products made in the bedding industry. They are an employee owned company with the finest craftsmen, superior quality and a commitment to the technology that makes them sleep science pioneers.
UFS has, for over 40 years, been Peoria's place for the best deals in everything from furniture to wine. "It's all about the deal" drives every merchandising decision we make" says Pierre Serafin, 2nd generation co-owner. Over the years UFS has represented some of the top names in the business. Famous makers like Frigidaire, Shaw, Sealy, Ashley, Mohawk, Franklin, Samsung, Phillips and others have been sold at rock bottom discount prices that can't be compared.
For additional information contact Gerard Weigand, bedding merchandise manager at UFS. (309-673-4503) Or visit (UFSdeal.com)
Advertising and marketing for UFS is directed by Focus Media Company, (http://www.focusmediacompany.com) using direct mail, newspaper and TV ads.