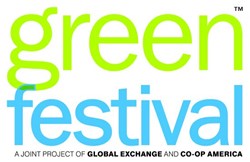 Sunwarrior is looking forward to meeting more raw food and health enthusiasts who care what happens to the world we live in.
(PRWEB) October 01, 2013
Sunwarrior, a plant-based protein and supplement company in Southern Nevada, will exhibit at this year's Green Festival in Washington DC. They will also be sharing free samples of new products and a few signed copies of Nick Stern's and Denley Fowlke's latest book, The Warrior Way.
"The Green Festivals are always a great opportunity," said Nick Stern, "to network with green, eco, and sustainability experts from around the world. We're excited to be a part of this festival in DC and we're looking forward to meeting more raw food and health enthusiasts who care what happens to the world we live in."
The DC Green Festival will take place September 21-22 at the Walter E. Washington Convention Center. Sunwarrior will exhibit at booth number 330/332. Join them for a chocolate or vanilla Warrior Blend sample, some Liquid Vitamin Mineral Rush, or their Ormus Supergreens and to learn more about their many raw, vegan products.
About Green Festival
At Green Festival®, a project of Green America and Global Exchange, they're celebrating what's working in our communities and around the world - for people, business and the environment.
Think of Green Festival® as a walk through a sustainable community. It begins with finding solutions to help make lives healthier-socially, economically and environmentally. Individuals, business and community leaders come together to discuss critical issues that impact the world at home and abroad. Organizations and businesses showcase programs and products that restore the planet and all that inhabit it. Neighbor-to-neighbor connections are formed and skills are shared to empower people to create positive change in the world.
Join them at the nation's premier sustainability event, where you will see the best in green. Enjoy more than 125 renowned authors, leaders and educators; great how-to workshops; cutting-edge films; fun activities for kids; organic beer and wine; delicious vegetarian cuisine and diverse live music. Shop in their unique marketplace of more than 300 eco-friendly businesses-everything from all-natural body care products and organic cotton clothing to Fair Trade gifts and beautiful kitchen tiles made from renewable resources.
See the most recent developments in renewable energy and green technology; sample Fair Trade chocolate, tea, coffee and oils (yes, they really do taste better); and learn how to invest in your community, green your home and avoid products made without consideration of the earth or its people.
Recharge your batteries with all the hope, inspiration and practical ideas you'll find at the one and only Green Festival.
About Sunwarrior
Sunwarrior's mission to illuminate body, mind, and planet dominates each decision we make, every action, all our product releases, and even as we hire new people. Sunwarrior relies on the original power of sunlight, captured by the wondrous plants of the world, to change the way the people look at fitness and nutrition. The company was born from the distinct dreams of two men who just wanted to create a plant-based protein powder that would be raw, healthy, and different.
These two men combined their dreams, their savvy business personalities, and their environmental consciousness to create a company committed to making the best plant-based products while elevating humanity and preserving the planet.
Sunwarrior has grown since that night years ago at the Sedona Raw Food Festival. Sunwarrior now offers several raw, plant-based products that are perfect for anyone and any lifestyle, not just vegans or vegetarians: two delicious protein powders to build muscle and speed recovery, activated barley for enhanced endurance, supergreens for probiotics, and liquid mineral complexes that nourish cellular function and boost the immune system with vital macro and trace minerals, like magnesium, iron, copper, selenium, and ionic silver.
Join them in their mission to share the health and healing energy from captured sunlight with everyone. Together, we truly can transform the planet, one warrior at a time.
For more information about Sunwarrior visit http://www.sunwarrior.com. For more information about New York Green Festival, visit http://www.greenfestivals.org.