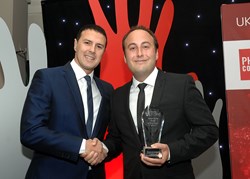 (PRWEB UK) 14 October 2013
David Lloyd Leisure, Europe's premier health, sports and leisure group, has been voted Heart Safe Gym of the Year, recognising its investment in life-saving equipment and staff training for its clubs.
Organised by the charity Hand on Heart, which aims to prevent deaths of young people who die due to sudden cardiac arrest, the Heart Safe awards are the UK's first to celebrate organisations that invest in 'heart safe' environments and individuals who have saved lives while at work or leisure.
David Lloyd Leisure, which has invested in defibrillators for all of its 81 UK clubs and 10 in Europe and provides a regular training programme for staff to use the life-saving equipment, was presented with the accolade by TV presenter and comedian Paddy McGuiness at a ceremony at the Radisson Blue Edwardian Manchester Hotel on Thursday 10 October.
Caleb Brown, of David Lloyd Leisure's health and safety team, who was a finalist in the Heart Safe Trainer of the Year award category, said: "We are absolutely delighted to have won the Heart Safe Gym of the Year award, which is fantastic recognition for the significant work the company has carried out to ensure all of our clubs are equipped and our teams trained to save lives.
"Since installing defibrillators in David Lloyd Leisure clubs 15 years ago, they have been used by our staff to save nearly 100 lives. Each year, nearly 2,000 team members are trained to use this equipment, in addition to their first aid and CPR qualifications. We believe that our success rate in using defibrillators is among the highest in the world for saving lives of individuals who suffer a cardiac arrest out of hospital."
Gina Harris, fundraising manager for Hand on Heart, said: "We're so thrilled at Hand on Heart to have been able to create and host an event which awards those who contribute to making their local community Heart Safe. Each winner and nominee fully deserves their recognition and we hope to continue this tradition in celebrating these inspirational people who are passionate about creating Heart Safe environments."
Photo caption: TV presenter and comedian Paddy McGuinness, left, with David Lloyd Leisure's Caleb Brown.
ENDS
Note to editors: For further information about this press release, contact the David Lloyd Leisure press office on 01707 289833/34 or email press(at)davidlloyd(dot)co.uk.
About David Lloyd Leisure Group
The David Lloyd Leisure Group operates 81 clubs in the UK and a further 10 clubs across Europe. It has over 440,000 members and employs 6,000 people. This includes an expert health and fitness team of over 1,800, while it contracts the services of more than 400 tennis professionals. Across all clubs, David Lloyd Leisure has over 150 swimming pools (of which half are indoor) and offers over 10,000 exercise classes per week. Every week 20,000 children learn to swim at David Lloyd Leisure and 14,000 learn to play tennis. Its racquets facilities are unparalleled with 700 tennis courts as well as 180 badminton courts and 140 squash courts. Additional facilities include health and beauty spas, club lounges with free internet access, crèches, nurseries and specialist sports shops.
About Hand on Heart and Heart Safe Awards
The UK Heart Safe Awards is the UK's first nationwide awards competition to celebrate organisations and employers who invest in creating Heart Safe environments as well as the acts of individuals who have saved lives while at work or leisure. Hand on Heart's aim is to teach children to save lives and receive life-saving defibrillators in schools. Holding the UK Heart Safe Awards allows the celebration of those who have already invested in this life-saving equipment and increase awareness of the charity and its goal, as well as fundraising for Hand on Heart. This year's Heart Safe Awards raised £20,000, with all funds raised by the event going to funding defibrillators for schools.