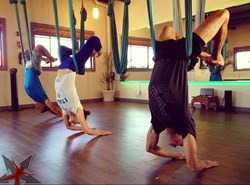 New York (PRWEB) October 01, 2013
For many years, the secrets of the circus were just that, secrets. AntiGravity® (an aerial acrobatic performance company established in 1991 who does not call themselves a circus), was the first group to make the aerial yoga accessible to the masses utilizing the Harrison AntiGravity Hammock. Now, aerial arts are flourishing as an art-form and as exercise techniques.
In order for a form of movement to become a bona fide technique, it requires a vocabulary of moves and names for the poses and sequences. "I did not invent the hammock or the silk, but I did invent the silk-hammock and the movement vocabulary on it along with my team. Making the art form uniform across the globe has been my quest and at long last, phase one is done!"
While Mr. Harrison continues to create new sequences and poses and works to improve aerial yoga training methods for safety, the AntiGravity® development team works diligently in his AG Lab in Midtown Manhattan to create class designs from his courses materials. AntiGravity® Yoga, AntiGravity® Suspension Fitness, AntiGravity® Restorative Yoga and AntiGravity® Pilates are all copyrighted techniques from AntiGravity® Fitness that have been evolving on his invention (the Harrison AntiGravity® Hammock) since 1999.
Mr. Harrison has yet to codify his performance technique, claiming that aerial dance is much more challenging to harness than fitness. To date, there are no other suspension fitness movement techniques that have been so thoroughly thought out, codified, accredited as well as presented online in the form of a library.
Available to all Instructors who have trained in the AntiGravity yoga techniques, the AntiGravity Digital Academy is a big step towards effectively unifying the over 1000 instructors around the world.