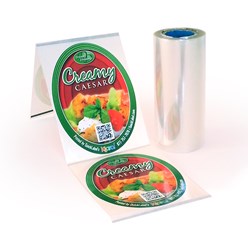 "The cost to apply Lustro-Lam to standard size labels is less than $0.01 per label. The total system is tens-of-thousands of dollars less than competitive solutions."
West Warwick, RI (PRWEB) October 08, 2013
QuickLabel systems, an Astro-Med, Inc. (NASDAQ: ALOT) business unit, is announcing the worldwide release of its exclusive laminating solution, Lustro-Lam. According to QuickLabel, Lustro-Lam is a gloss overcoat film formulated to laminate inkjet-printed labels.
Lustro-Lam is an optically clear film that mates with the surface of an inkjet-printed label to produce a glossier, more durable label surface, according to the company. The Lustro-Lam pairs well with the Kiaro! inkjet label printer to produce water and chemical resistant labels with a rich, glossy finish, according to QuickLabel.
The Lustro-Lam System, which consists of Lustro-Lam overcoat film, a Pronto! label printer, and NiceLabel® or Custom QuickLabel® software, is being demonstrated this week at Pack Expo in Las Vegas as well as at LabelExpo in Brussels, and at Fachpack in Nuremberg.
"Lustro-Lam is our revolutionary laminating system that costs tens of thousands of dollars less than other cumbersome finishing systems," said General Manager Eric E. Pizzuti. "We're proud to give our customers the capability to apply Lustro-lam to their products in any number of ways: in spot areas, or over an entire label, and on labels large or small."
A New Laminating Solution
QuickLabel says that they have been developing this exclusive labeling solution for more than a year.
According to the company, Lustro-Lam can be applied with a QuickLabel Pronto! printer. Because it is digitally applied to the label on-demand, users can choose to add lamination to a spot area or to cover an entire label.
QuickLabel states that the Lustro-Lam labeling solution is a cost-effective labeling solution. "The cost to apply Lustro-Lam to standard size labels is less than $0.01 per label," said Pizzuti. "The cost of the total system is tens-of-thousands of dollars less than competitive labeling solutions."
According to QuickLabel, Lustro-Lam can be used with die-cut labels so that there is no need for the user to purchase a die-cutter.
Added Durability and Gloss
Lustro-Lam, when applied to Kiaro!-printed polypropylene gloss labels, enhances resistance to chemicals, water, and abrasion.
QuickLabel says that Lustro-Lam has been tested to be 1000% more chemically resistant to water, alcohol, essential oils, hydraulic fluid, and cleaning chemicals than un-laminated polypropylene printed labels.
The lamination provided by Lustro-Lam protects labels and enhances gloss. The gloss level of Lustro-Lam is rated at nearly 3x higher than non-laminated gloss paper labels printed by an inkjet label printer, according to QuickLabel.
User-Friendly Design
QuickLabel says that the Lustro-Lam Solution is compact and easy to use. When used with a specially designated QuickLabel Pronto! printing system, the Lustro-Lam solution becomes a standalone laminating station. The user can simply download the print file to the onboard memory of the system and apply laminate as desired.
Both NiceLabel software and Custom QuickLabel software, which is included with the Kiaro! inkjet label printer, can drive the Pronto! system and be used to intelligently apply the laminate to the surface of a printed label.
QuickLabel Systems and Astro-Med, Inc.
QuickLabel Systems is a leading manufacturer of digital color label printers used by manufacturers and processors who want to print their own labels in-house, as well as barcode label printers, thermal transfer ribbon, labels, and custom label printing services. QuickLabel Systems is a brand of Astro-Med, Inc., a Rhode Island-based manufacturer of high-tech specialty printing systems and data acquisition systems for test and measurement. Astro-Med, Inc. (NASDAQ:ALOT) is a member of the Russell Microcap® Index. Additional information is available by visiting http://www.QuickLabel.com. Keep up with QuickLabel Systems on Twitter at http://www.Twitter.com/QuickLabel and on Facebook at http://www.Facebook.com/QuickLabel.