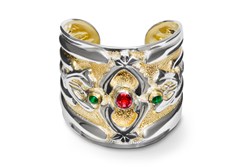 If you can't live in Downton Abbey, you can wear it on your wrist.
Baltimore, MD (PRWEB) October 01, 2013
The designs of legendary silver master Michael Izrael Galmer feature his passionate interpretations of flowers responding to the sun. New this season, Repousse' Jewelry by Galmer, the company founded to extend Galmer's silver artistry into luxury jewelry, debuts several new items, inspired by historical English silver motifs and botanicals. A decades-long high regard for English decorative quality prompted Galmer to create bold new original design elements for the new pieces.
The Morning Bloom Cuff ($695) and The English Roses Cuff ($695) are of repousse' silver with the vibrancy and detail of an English garden, yet are made in America. For The Morning Bloom, the luscious center flower opening to the sun, is Galmer's own floral hybrid, a mix of rose, peony and his beloved chrysanthemum. The English Roses Cuff has an audience-in-waiting. Galmer collectors have requested a classic repousse' rose bracelet since Repousse' Jewelry's founding in 2011. In addition to the cuff, The Petite Roses Earrings ($300), penny-sized with intricate detail, will become standard daily wear for Repousse' Jewelry lovers.
Two new bracelets,The Continental Cuff ($785) and The Abbey Cuff ($825), are gilded with 24K gold exterior touches and embellished with faceted semi-precious, natural stones. Garnets, green topaz and London blue topaz adorn versions of each design. The Christmas Cuff is the Abbey Cuff with a center garnet flanked by two green topaz stones. When Michael's wife saw the piece, she wondered, "But Michael, it looks like Christmas." Though Jewish himself, Michael respects all religions which uplift humankind and replied, "Who doesn't love Christmas?"
One of Galmer's classic bracelets, The Cherry Blossom Cuff, has now been created with seven diamonds as the centers of the dainty blooms. Ingeniously, Galmer has set the diamonds into the cuffs which have openings in the back of each gem so that light can reflect brilliantly from the diamonds. Repousse' Jewelry is offering The Diamond Cherry Blossom Cuff ($1,500) in a limited edition of 100 with an interior mark noting each cuff's edition.
The cornerstone of Repousse' Jewelry is the silver cuff, the perfect tableau for Galmer's art and the favorite of the company's managing partner, Carolyn O'Keefe, whose mother wore an heirloom cuff every day as her signature. O'Keefe has an extensive background in marketing luxury products including a three-year tenure as head of the Diamond Information Center in New York. Michael Izrael Galmer came to America in 1983 from Russia with a PhD in Physics and a dream to create his own company using his artistic and technical talents. Soon his silverwork was discovered by collectors, Lenox, Gorham and, in particular, Tiffany & Co. which commissioned him for intricate pieces over twenty years.
Repousse' Jewelry by Galmer debuted in July 2011 at Luxury Prive' at The Pierre and now is found in more than a dozen fine jewelry stores and on the web at repoussejewelry.com.