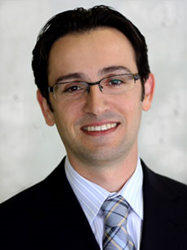 It is important for adult women to undergo annual screening for ovarian and other gynecologic cancers.
Beverly Hills, CA (PRWEB) October 01, 2013
Peyman Banooni, MD, is the head of the gynecology department at La Peer Health Systems in Los Angeles. In honor of September being Cancer Awareness Month, Dr. Banooni wants to remind women about the risk factors, symptoms and suggested screening times for cervical, uterine and ovarian cancer.
"It is important for adult women to undergo annual screening for ovarian and other gynecologic cancers," said Dr. Banooni. "Regular screening can pick up early cases of cancer and help reduce your risk."
Sexually active women and women 21 and over should begin undergoing Pap smears once a year, unless otherwise directed by their doctor due to higher risk factors. Some of these risk factors that can increase a woman's chances for developing gynecologic cancer include a family history of the cancer, inherited gene mutations that increase cancer risk, age (risk increases with age), and previous cancer diagnoses.
During a woman's annual exam, if any suspicious or precancerous cells are spotted, the gynecologist may need to surgically remove tissue for a full diagnosis. At La Peer Health Systems, Dr. Banooni and his team can perform this surgery as a quick outpatient procedure.
The symptoms of ovarian cancer tend to resemble those of less serious conditions, so it is important not only to get screened regularly, but also to pay attention to any of the following issues: pelvic pain or discomfort, abdominal bloating, chronic indigestion or nausea, lower back pain, changes in bladder or bowel habits, or loss of appetite. Symptoms of Uterine cancer include a change in vaginal bleeding such as heavier periods or new onset bleeding in between periods or after intercourse. Cervical cancer may be asymptomatic or may also present as irregular vaginal bleeding. However, if pap smears are done on a regular basis, most cases of cervical cancers can be avoided. Women who have experienced any of these symptoms are encouraged to speak with their gynecologists about screening.
"Some cancers may be curable when caught in their earliest stages," said Dr. Banooni. "That's why I urge women to be screened every single year, so that if cancer does develop, we can catch it as early as possible."
Peyman Banooni, MD, is a board-certified obstetrician and gynecologist at La Peer Health Systems specializing in obstetrics, gynecological disorders, and infertility. Dr. Banooni performs minimally invasive procedures that treat conditions such as cervical polyps, endometriosis, female infertility, fibroids and ovarian cysts. He offers innovative surgical techniques such as Myosure (fibroid removal), NovaSure (to lighten periods), and Essure (permanent birth control).
La Peer Health Systems is an outpatient surgery center in Beverly Hills, founded by doctors and focused on providing excellent patient care alongside the most cutting-edge medical treatments available. With 50 world-renowned physicians in 14 specialties, comprehensive medical treatment is offered that takes patients from consultation to diagnosis, treatment, surgery, and ultimately aftercare. The 14 medical departments include orthopedics & sports medicine, gastroenterology, head & neck surgery, colorectal & general surgery, podiatry, ophthalmology, pain management, plastics & reconstructive surgery, gynecology, spine surgery, interventional cardiology, bariatric surgery, thoracic surgery, and anesthesiology. Unlike large hospitals, La Peer's unique structure offers extremely personal care in a safe and controlled environment.
To learn more about La Peer Health Systems, visit http://www.lapeerhealth.com.