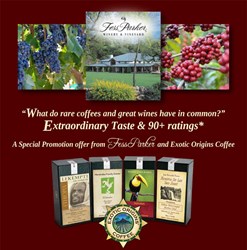 Selecting a fine coffee should be as unique and personal as selecting wines for your cellar.
Santa Barbara, California (PRWEB) October 09, 2013
Exotic Origins Coffee has percolated an exciting new partnership with Fess Parker wines. The first global portfolio of rare coffees and exceptional wines pair up with extraordinary taste, 88+ (& higher) ratings and share the same lifestyle customers. "Together we offer consumers in search of a deeper experience the perfect opportunity to learn more about our unique tasting notes." Priscilla Broward, VP Sales & Marketing Exotic Origins continues, "We have also developed a proprietary coffee-wine pairing system which matches up each single estate harvest with the perfect Fess Parker wine."
Tim Snider, President of Fess Parker Winery & Vineyard presides. "Exotic Origins Coffee understands the same vision, lifestyle trends, and has similar core values and principles." Exotic Origins has taken their entire coffee portfolio to a fine wine level by providing precision roasted limited-edition coffees which Fess Parker offers to their loyal wine enthusiasts.
"We are honored to have an affiliated partnership with such world-class people; the Fess Parker Family Winery. We are happy to introduce these superbly rated wines to our coffee customers now and as our company grows into the future," states Founder & CEO Scott Plail.
The two companies met at the New World Wine Experience Grand Tastings sponsored by the Wine Spectator Scholarship Foundation in November 2012. Fess Parker is an established winery with a rich history of critical acclaim and recognition for high quality wines from consumers around the globe. Exotic Origins Coffee was established in November 2012 to offer deeper experiences from origin to cup.
Exotic Origins Coffee is available direct to consumer through the company's website.
Fess Parker Wines website http://www.fessparkerwines.com.