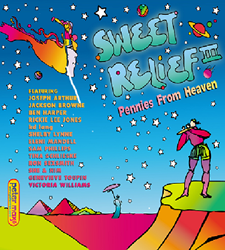 "Getting a chance to do something that benefits Sweet Relief combined with working with my dear friend Sheldon Gomberg is an opportunity I jumped at and something I can't wait to do again." – Ben Harper
(PRWEB) October 02, 2013
Vanguard Records is proud to announce the release of Sweet Relief Ill: Pennies From Heaven. This third compilation album features new recordings by various artists including Ben Harper, Jackson Browne, Shelby Lynne, Victoria Williams, She & Him, Ron Sexsmith, Rickie Lee Jones and Joseph Arthur in support of the Sweet Relief Musicians Fund which provides financial assistance to all types of career musicians who are struggling while facing illness, disability or age-related problems.
Each of the artists on Sweet Relief lll: Pennies from Heaven chose songs with a theme of support and assistance such as "If I Needed You" (Joseph Arthur), "How Did You Find Me Here?" (k.d. lang), "King of the Road" (She & Him), "Crazy Love" (Ben Harper), "Change is Gonna Come" (Victoria Williams) and "Big Spender" (Sam Phillips) plus many more.
It has been just over 20 years since the first Sweet Relief album came out celebrating the music of our founder Victoria Williams, and we think that this one captures the same magic and inspiration, thanks to all of the extraordinary artists that donated their talents to the making of this record.
Sweet Relief III: Pennies From Heaven is now available for purchase on iTunes & Amazon.
Track Listing:
1. Pennies From Heaven - Ron Sexsmith
2. Brother Where Are You - Shelby Lynne
3. Big Spender - Sam Phillips
4. How Did You Find Me Here - k.d. lang
5. Crazy Love - Ben Harper
6. Heart of Gold - Genevieve Toupin
7. If I Needed You - Joseph Arthur
8. Surfer Girl - Rickie Lee Jones
9. With a Little Help From My Friend - Tina Schlieske
10. Change is Gonna Come - Victoria Williams
11. King of the Road - She & Him
12. I'll Be Home - Eleni Mandell
13. Don't Let Us Get Sick - Jackson Browne