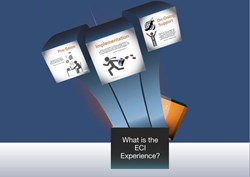 We're an innovative company, and Prezi is an innovative tool. -Jeff Lacy, President and CEO
Elkhart, IN (PRWEB) October 01, 2013
In step with innovation, Electronic Commerce, Inc. (ECI) is breaking away from traditional slidedeck presentation tools, and opting for Prezi. The ECI website's newest addition is a Prezi presentation that showcases the company and its innovative cloud-based Human Capital Management technologies.
Unlike traditional slidedecks, Prezi offers a fresh approach to visualization, engaging the viewer in a dynamic way using a zooming, virtual canvas.
"We're an innovative company, and Prezi is an innovative tool," said Jeff Lacy, ECI president and CEO. "Prezi adds a new dimension to the art of presenting ideas, in turn better capturing our image. Prezi is becoming the standard tool at ECI for highlighting our company and our products virtually, both inside and outside of the boardroom."
In an interactive and visually interesting way, ECI's Prezi identifies: 1) Who is ECI; 2) What is Empower; 3) What is the ECI Experience all about; and 4) Why you need to choose ECI – Visit http://www.ecipay.com/prezi-eci-overview to view.
"We expect our Prezi, in some cases, to be a potential client's first impression of our company," Lacy said. "Prezi communicates the ECI experience in a friendly, eye-catching and creatively informative way – achieving the first, and lasting impression we want to make."
About ECI
ECI provides web-based Human Capital Management solutions, including Onboarding, Payroll Processing, Talent Management and Human Resource Information Systems, under a SSAE 16 Type II audited SaaS environment. ECI services clients throughout the United States. ECI's clients range from 100 to 10,000 employees in virtually every industry both publicly and privately held. While ECI has been recognized with several awards for outstanding business achievements including the 2006 Inc. 500, and 2007, 2008, 2009 & 2010 Inc. 5000, the company is most proud of a 98% Client Retention ratio, which is a reflection of ECI's commitment to excellence in service, technology and value. Visit ecipay.com to learn more.
About Prezi
Prezi is a virtual whiteboard that transforms presentations from monologues into conversations: enabling people to see, understand, and remember ideas. Learn more at prezi.com.
For additional information, please contact:
Leanne Phillips
Communications Manager
Electronic Commerce, Inc.
2810 Dexter Drive
Elkhart, IN 46514
574-970-4400
lphillips(at)ecipay(dot)com