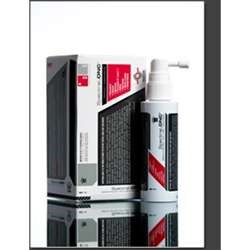 The DS Laboratories Spectral-DNC Hair Loss Treatment is perfect for men (or even women) who are experiencing severe loss of hair.
Anaheim, CA (PRWEB) October 27, 2013
SkinBeautyMall.com is widely recognized for its dedication to researching and providing consumers with the most effective anti-aging and wrinkle cream products in current development. SkinBeautyMall.com makes available to the public a wide variety of skin and hair care solutions that have been handpicked for their effectiveness and their highly successful ingredients in addition to revolutionary technological enhancements. The company is proud to present its latest addition: DS Laboratories Spectral-DNC Hair Loss Treatment.
The researchers at DS Laboratories utilized a form of minoxidil (combining minoxidil 5% and aminexil) in DS Laboratories Spectral-DNC that is simultaneously lighter and multifaceted in its approach to hair growth and protection from hair loss. This breakthrough hair loss ingredient is termed Nanoxidil. The Nanoxidil is able to more accurately and easily target scalp areas in need of treatment. Whether the areas to be treated are balding or already bald, DS Laboratories Spectral-DNC will be able to give fast, effective results due to its Nanoxidil composition.
DS Laboratories Spectral-DNC Hair Loss Treatment's technology uses a nanosome microsphere delivery system, allowing the DS Laboratories product to be delivered and fully absorbed at the exact skin location on the scalp where hair treatment is needed. DS Laboratories constructed its hair loss treatment to be used as either a copper peptide spray or as droplets. In this way, users have a choice of how to most effectively use their DS Laboratories Spectral-DNC on particular areas of the scalp.
This DS Laboratories hair loss treatment has been clinically tested and proven to improve the appearance of a thicker head of hair. The treatment is sprayed onto the scalp areas twice per day. Aside from the Nanoxidil, the DS Laboratories Spectral-DNC contains copper peptides, adenosine, nanosomes and other specialized ingredients.
Laura Smith, the esthetician at SkinBeautyMall.com, says, "The DS Laboratories Spectral-DNC Hair Loss Treatment is perfect for men (or even women) who are experiencing severe loss of hair. At the same time, this DS Laboratories hair treatment will form a healthy new environment for hair growth and will also thicken existing hair."
The SkinBeautyMall.com site is dedicated to providing consumers with the latest innovations for skin care and wrinkle cream products that contain both breakthrough ingredients and technological advances. The products chosen for SkinBeautyMall.com are items that have been developed, clinically researched, and are used globally by physicians and skin care consultants to treat skin care issues. SkinBeautyMall.com offers its clients a two-week, money-back guarantee, a 120% price protection warranty, and free shipping. This e-commerce site also has an esthetician on call for any questions customers may have regarding its products.