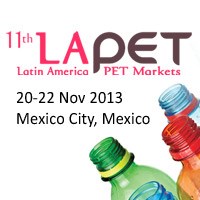 The entire Latin American region, led by Mexico is gradually shifting to more sustainable packaging alternatives.
Mexico City, Mexico (PRWEB) October 08, 2013
CMT's LAPET conference will enter its eleventh year on 20-22 November 2013 in Mexico City, highlighting some of the key trends in the PET industry in Latin America. As one of the largest consumers of PET, Mexico has been a key market for resin producers across the world. However, the entire Latin American region, led by Mexico is gradually shifting to more sustainable packaging alternatives. While this is good news for bio-feedstock producers, what does it hold for resin producers? Adding to this is the shift in consumer tastes and preferences that is influencing the packaging industry. The 11th LAPET discusses all these key developments brewing in the LATAM PET market.
The event kick-starts with top companies Walmart de Mexico, PCI (PET Packaging, Resin & Recycling) Ltd, PCI Xylene & Polyester sharing perspectives on the PET market in LATAM. Walmart presents an overview of its approach to 'Sustainable Strategy across the Supply Chain', particularly – rethinking product packaging, the impact on vendors, brand owners and suppliers plus how the retailer is championing rPET, lightweight and sustainable packaging. On the other hand, PCI (PET Packaging, Resin & Recycling) explores 'How Will Excess Global PET Capacity Impact the PET Business in the Latin America Region?' and touches on the growing imbalance between demand and available capacity – both global and regional, the resulting changing dynamics for PET trade flows between regions, and the impact on PET recycling for sustainable development. In addition PCI Xylene & Polyester presents insights into the impending question – 'Will Asia's Paraxylene Drive the Global Markets in 2014?
Participants can also look forward to updates on Global MEG Outlook and its impact on China's ambitious production plans in a session by Mr. George S. West, Director, Chemical Intelligence. Via a panel discussion on the pros and cons of China's Green Fence policy, Ing Jaime Camara Creixell, Director General, PetStar, SA de CV, Mr. Carlos E Lotero, Houston Operations Manager, Custom Polymers Inc., and Mr. David Swift, Managing Director, PCI (PET Packaging, Resin & Recycling), seeks to update the audience on the influence of the Chinese recycling market worldwide, specifically Mexico, the Green Fence Initiative's impact on the US, Mexican and LATAM markets.
The event is further supported by senior representatives from prominent companies such as Coca Cola de Mexico, Pepsico, Mission Hills S.A. de C.V. (subsidiary of Colgate Palmolive), Amcor Rigid Plastics, sharing views on how to convert Sustainable Packaging into Commercial Reality and how to target New Market Segments with Lightweight Packaging/Bottles, and more. Plus, there is also a Site Visit to Petstar SA de CV's food-grade PET recycling facility in Toluca on 20th November, 2013, where delegates will witness the plant's capacity to recycle 65,000 tons of PET yearly, equivalent to 3,100 million bottles.
LAPET 2013 aims to draw decision makers and senior executives of PET resin producers/suppliers, feedstock suppliers (PX, PTA, MEG), polyester manufacturers, traders, convertors, preform manufacturers, designers, technology providers including machinery suppliers from blow moulding, preform to injection moulding, robotic systems, recycling companies, bottlers/ fillers and brand owners.
Visit official website http://www.cmtevents.com/main.aspx?ev=131140& for more information.
For enquiries in English, contact: Ms. Hafizah at +65 6346 9218
For enquiries in Spanish, contact Ms. Tanya at +52 55 56352672