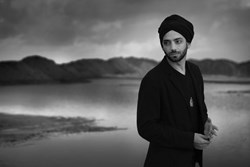 If I had called the album just 'Idan Raichel,' people would have thought that Raichel is the main voice on all the songs. I wrote the songs and I arranged and produced them, but I perform them together with other vocalists and musicians.
San Francisco, CA (PRWEB) October 01, 2013
CIIS Public Programs & Performances presents Israeli rock star Idan Raichel in concert on Saturday, October 12 at 8:00PM at the Nourse Theatre in San Francisco.
"We're thrilled that Idan is bringing his whole band to San Francisco," says Public Programs & Performances Director Karim Baer. "Their sound is a collaboration among amazing musicians from many different traditions."
With his virtuoso performances on keyboards and his rocking compositions, Raichel has become one of Israel's most recognized international performers. The Idan Raichel Project, as Raichel calls his band, blends influences from world music, Ashkenazi and Sephardic Jewish traditions, and sounds from Ethiopia and the Middle East. Since the release of their first international album, the Project has represented a hope that artistic collaboration can break down barriers between different backgrounds and beliefs.
The Project's live show has entranced audiences worldwide. They have headlined in some of the globe's most prestigious venues, including Central Park's Summer Stage, the Apollo Theater, Radio City Music Hall, the Dolby Theatre in Los Angeles, the Sydney Opera House, Le Bataclan in Paris, and London's Royal Albert Hall.
About CIIS
California Institute of Integral Studies (CIIS) is an internationally recognized leader in integral education. CIIS has an enrollment of 1,400 students pursuing degrees in a variety of academic programs in its schools of Consciousness and Transformation, Professional Psychology & Health, and Undergraduate Studies. In addition, CIIS hosts a vibrant art exhibition program through The Arts at CIIS, as well as offering a dynamic array of events through its Public Programs & Performances division, including workshops, concerts, and conferences. The Institute provides low-cost mental health services to the San Francisco Bay Area through its six award-winning counseling centers. For more information about CIIS, visit http://www.ciis.edu.
# # #