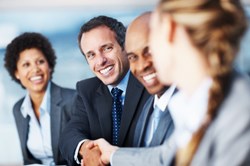 ... the neurosales skills I've learned in just a few weeks have transformed my business and my life.
(PRWEB) October 01, 2013
As we all know, sales pros are constantly seeking ways to gain a significant edge over their competition or they're always on the lookout for strategies to dramatically elevate their income and rise to the top of their industry. By applying recent breakthroughs in neuroscience they may have just struck gold.
The latest "boom" that's about to take over the world of professional selling is the integration of neuroscience with the latest advances in sales training (some are calling this hybrid – neurosales) and many who've been privy to early sales coaching programs using this technology say it's transformed them, or their team, from average performers into superstars.
Rachel Cogar, CEO of Puma Creative, one of the nation's leading inbound marketing consultancies, used neurosales insights to double her results for her clients, and tripled sales revenues for Puma Creative. "The depth at which we connect and engage with our clients is a direct indication of how successful we can be together. With deep connection and understanding comes limitless creativity and options to grow our businesses." Cogar adds, "We've seen clients hungry for the skills and training to engage their customers through deep connection marketing."
Tina Harrison added over $3 million in new sales to her professional consulting business after applying neurosales techniques. "I swear the neurosales skills I've learned in just a few weeks have transformed my business and my life. I now realize that nothing is beyond my grasp." admits Tina.
But exactly what are these new skills? What's the secret behind them? Most of us have heard the phrase "neuroplasticity" but not everyone is familiar with what it is yet. It's the ability to re-map the way our brain functions and literally re-pattern our neural pathways. It was originally developed to help rehabilitate those with serious brain injuries, and based on the groundbreaking success of those programs it's been adapted to marketing and advertising research to uncover the non-conscious process for buying decisions. This combined with pattern-priming, and advancements in the understanding of what influences our subconscious are the root of neurosales.
The marketing world has been using FMRI (functional magnetic resonance imaging) and high-density EEG's to study how the subconscious brain reacts to marketing messages for the better part of a decade. This has led to some remarkable (and not always comforting), insights about why we buy and how much influence our subconscious has over our daily decisions, but do to its complexity and cost this technology has largely been passive and more academic than practical in a business environment.
However, more recently leading coaches, trainers, and consultants have been using these breakthroughs in brain science to help high performers in business achieve new heights – and nowhere has this been more successful than in the arena of sales.
Sales professionals learning to apply the new brain sciences of neuroplasticity, pattern priming and other techniques are reporting DRAMATIC improvement in their ability to generate new leads, develop strong rapport with prospects and close more business than ever before.
Sue Stebbins, CEO of SuccessWaves, a 20 year leader in neurocoaching, and one of most sought after coaches in the neurosales revolution says: "It's absolutely incredible how sales revenue and performance –not to mention enhanced client retention through trust occurs - with just a few weeks of coaching. I'm seeing client after client go from being a middle of the pack producer to a top 1%er in three to four months. It's like nothing we've ever seen before."
In fact CEO's and sales professionals are reporting that their annual commission based income is rising by as much as 300% within the first year of applying these skills.
"We're just starting to come to grips with how many of our daily decisions, the connections we make, and what we like and don't like are rooted in our subconscious. It's startling to learn that our rational mind isn't in as much control as we'd like to think. So, my neurosales coaching focuses on helping sell to the entire brain. Making sure the conscious and subconscious messages you're sending are in alignment. It sounds complicated, but it's actually fairly easy to master with the proper instruction and a little practice." says Stebbins.
Tina Harrison said that "…any CEO or sales person who isn't at least considering adding neurosales skills to their arsenal is in serious jeopardy of missing out. Right now this is still new and catching on, but in 12-24 months neurosales is going to be the norm. I wanted to get in on the ground floor and grow my business as quickly as possible before my competitors catch wind of this."
If you're interested in learning more about neurosales, how it works, or if you're curious about what it can do for you Sue Stebbins, CEO of Successwaves is offering a complementary white paper and limited time introduction coaching session called "Jump Start Your Sales Brain" and in just one hour you'll have a basic understanding the keys to what's driving this phenomenon, and insights about how to apply these breakthrough techniques to grow your revenue faster, build deeper relationships for your brand or company, or witness a revolution in your own sales career.
To Learn more about how you can immediately use proven neuroscience to Jumpstart Your Sales - and how it can help you as a CEO Entrepreneur, or Sales Executive outperform and lead your market to produce faster, Sales, Profit and Results, visit: http://jumpstartyoursalesbrain.com download the complimentary white paper, or give them a call to reserve your spot for the breakthrough sales-JumpstartMySalesBrain consultation: 1.866.358.7443