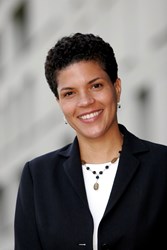 "We have not ended racial caste in America; we have merely redesigned it."Michelle Alexander from her book The New Jim Crow.
San Francisco, CA (PRWEB) October 07, 2013
CIIS Public Programs & Performances presents Michelle Alexander, author of the bestselling book The New Jim Crow, on Thursday, October 17 at 7:00PM at the Nourse Theatre in San Francisco. The New Jim Crow is a stunning account of the rebirth of a caste-like system in the United States, a system that has resulted in millions of African Americans being locked behind bars and relegated to permanent second-class status—denied the very rights supposedly won in the civil rights movement. Tickets for Alexander's lecture can be purchased at http://www.ciis.edu/publicprograms or by calling 415.392.4400.
"Public Programs & Performances is donating the net proceeds from this event to provide scholarships to help formerly incarcerated individuals attend the CIIS Bachelor of Arts Completion program," says Director Karim Baer. "It's worth mentioning that those with criminal records are not eligible for federal student aid."
"Now and then a book comes along that might in time touch the public and educate social commentators, policymakers, and politicians about a glaring wrong that we have been living with that we also somehow don't know how to face. The New Jim Crow: Mass Incarceration in the Age of Colorblindness by Michelle Alexander is such a work," says The New York Review of Books.
As the United States celebrates its "triumph over race" with the presidency of Barack Obama, the a striking number of black men in major urban areas are under correctional control or saddled with criminal records for life. As civil-rights-lawyer-turned-legal-scholar Michelle Alexander says, "We have not ended racial caste in America; we have merely redesigned it." Professor Alexander challenges us to place mass incarceration at the forefront of a new movement for racial justice in the U.S.
About CIIS
California Institute of Integral Studies (CIIS) is an internationally recognized leader in integral education. CIIS has an enrollment of 1,400 students pursuing degrees in a variety of academic programs in its schools of Consciousness and Transformation, Professional Psychology & Health, and Undergraduate Studies. In addition, CIIS hosts a vibrant art exhibition program through The Arts at CIIS, as well as offering a dynamic array of events through its Public Programs & Performances division, including workshops, concerts, and conferences. The Institute provides low-cost mental health services to the San Francisco Bay Area through its six award-winning counseling centers. For more information about CIIS, visit http://www.ciis.edu