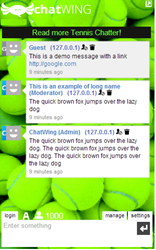 Cambridge, MA (PRWEB) October 02, 2013
In a latest meeting, Chatwing designers have come up of templates that are geared towards passion and romance niches. According to the designers, these chatroom templates are essential for adult dating sites and even forums that are discussing love and adult topics. These templates include intricate designs that are meant to capture the attention of adults.
"We achieved it by having a mixture of strong colors. This will invoke the passion in the chat software, allowing visitors to share their insights about love and romance. Aside from that, we may include sensual fonts to keep the spirit in the adult lounge," Ivan Diamond said—head of the adult template project.
"Adult background images are also being considered. But we only want the best, so users can expect that some of these images will be made for Premium services. In exchange of Premium coins, we will give them the best background images that will entice hundreds, if not thousands, of users within few months," Mr. Diamond stated.
The passion-designed chat box templates are expected to hit online communities in a month or two. Anticipators are advised to check Chatwing's Facebook page periodically for important updates.
About Chatwing.com
Chatwing.com specializes in the new field of website chat software. Over years, the Chatwing team has introduced live chat widget for hundreds and thousands of blogs. The Chatwing application bridges people from many parts of the world, creating global synergy through the Internet. The shout box can be installed in just seconds, and it can be used for varying purposes such as leisure and Internet marketing. It also allows a user to customize the size, color, and name of the widget.