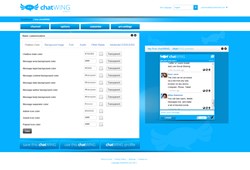 San Antonio, TX (PRWEB) October 04, 2013
Chatwing Development Team is now adding a blog customization service for bloggers or website owners. One of the reasons why Chatwing chatroom came up of this service is the usefulness of outsourcing. According to Chatwing developers, outsourced blog customization allows web users to focus on other important factors of their blogging campaigns.
The blog customization service covers a direct embedding of Chatwing's premier chat software. The assigned developer or administrator will gather all the preferences of the blogger before committing to the actual service. The developer will also modify the appearance of the blog or website based on the outcome wanted by the subscriber.
The service will be introduced in Wordpress and Xanga communities, wherein niche blogs are highly in demand. The price of the service will only be revealed through private queries and email messages in the Chatwing service. However, once the service is widely-known, Chatwing chat app will put it in the roster of Premium services.
All niche topics and categories are covered by Chatwing's blog customization services. For information regarding other website services, users can check out the posts in Chatwing's primary Facebook page. The company also sends updates in Twitter.
About Chatwing.com
Chatwing.com specializes in the new field of website chat software. Over years, the Chatwing team has introduced live chat widget for hundreds and thousands of blogs. The Chatwing application bridges people from many parts of the world, creating global synergy through the Internet. The shout box can be installed in just seconds, and it can be used for varying purposes such as leisure and Internet marketing. It also allows a user to customize the size, color, and name of the widget.