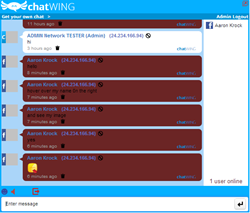 Houston, TX (PRWEB) October 06, 2013
With the advent of technology, Anime has become one of the most sought-out topics in cyberspace. This is based on the continuous study done by Chatwing's team of researchers. The team has expanded in the Anime niche for several years, and they have come up with new preset Anime chat box templates.
The Anime chatrooms will include an intricate and colorful design to match the preferences of bloggers in the niche. Aside from that, Anime background images will also be included to give the desired 'feel' in the chat room. The conceptualized Anime chat templates are Naruto, Bleach, and One Piece. These Anime shows have gathered thousands of fans, so Chatwing chat software developers are confident that the preset templates will gain a stable following.
The developers are also discussing the possibility of an Anime chat network. This is to complement the arrival of the Anime chatroom templates and give higher communication leverage for registered Chatwing users. The Anime chat network is useful in building web traffic and gathering more information about the niche. Cosplayers are also expected to share their insights about their craft.
Chatwing chat app team will also come up with new preset chatrooms based on other niches, such as business, politics, PC gaming, Android, health, fashion, comedy, and many more. Updates about these preset chatrooms will be shown in Chatwing's periodic newsletters.
About Chatwing.com
Chatwing.com specializes in the new field of website chat software. Over years, the Chatwing team has introduced live chat widget for hundreds and thousands of blogs. The Chatwing application bridges people from many parts of the world, creating global synergy through the Internet. The shout box can be installed in just seconds, and it can be used for varying purposes such as leisure and Internet marketing. It also allows a user to customize the size, color, and name of the widget.