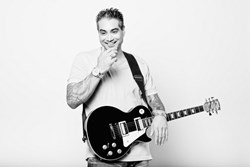 From your first lesson, I will have you rockin'!
Fort Lauderdale, FL (PRWEB) October 01, 2013
Those with a desire to learn the art of guitar playing, but cannot take traditional classes due to schedule limitations or other restrictions, will now have the opportunity to learn at their convenience. Dyce Kimura, a guitar teacher based in the Fort Lauderdale area, has expanded his services into cyberspace and has begun offering virtual guitar lessons through the free webcam chat program, Skype. Those curious about online guitar lessons, but reluctant to pay full price in the beginning, can take advantage of Kimura's promotion throughout the month of October. The special deal will include a 30 percent discount on all first-time Skype lessons.
Online education has been sweeping the Internet in all forms: students can now complete middle school, obtain high school diplomas, and even receive their college degrees without ever stepping foot in a classroom. But it doesn't just end there—music classes and lessons that are offered in a web-only format have become increasingly popular. Students are drawn to online classes and lessons for a variety of reasons, but it all comes down to everyone being able to learn at their own individual pace and with a schedule that best fits their busy lifestyle. With the evolution of technology, it doesn't matter where in the world a particular student is at any given time during a class or lesson—as long as he or she has a solid Internet connection and the right equipment (a device that hooks up to a webcam and has capabilities to go online).
Even just a single Skype guitar lesson can prove to be an invaluable experience, as these online classes can be recorded and played back by students again and again. However, for best results, anyone serious about learning to play the guitar would benefit the most from purchasing a Skype guitar lesson package. Students can receive their 30 percent discount off the first Skype guitar lesson upon signing up by mentioning this press release.
A well-known instructor in the music industry, Dyce Kimura offers face-to-face lessons in a traditional setting in the Fort Lauderdale, Florida area. Due to a high demand from his current students and prospective students throughout the world, Kimura made the decision to expand his services and begin offering online lessons. To learn more about Dyce Kimura's skype guitar lessons, his teaching practice, pricing, scheduling, and for any other information, be sure to visit him on the web http://www.skypeguitarlessonsonline.com/. Remember to mention this article to receive the October promotion.