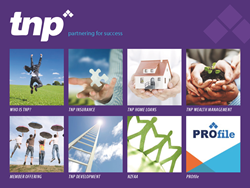 Since implementing Showcase, we've noticed an increase in the response rate of our prospective customers.
Auckland, New Zealand (PRWEB) October 09, 2013
Showcase Software Ltd. has successfully helped New Zealand's largest independent financial services advisory group to bring its sales process into the era of mobile devices. With Showcase's software, the firm, TNP, has assembled its entire catalogue of sales and marketing collateral in one mobile, branded space that's always up to date.
"Since implementing Showcase, we've noticed an increase in the response rate of our prospective customers," said Anna Frecklington, Distribution Support Manager of TNP. "And we don't have to follow up with as many prospects. They're coming to us."
TNP's improvements relate to two of Showcase's core functions: instant file-sharing, and analytics. For the former, TNP's representatives can share the materials that their prospects request in the middle of a sales meeting, without interrupting the presentation. For the latter, the sales rep can track Showcase's analytics to see when the prospect opens the email containing the requested materials, and downloads or shares them.
"Before Showcase, we had no way of knowing whether prospects were actually looking at our leave-behinds, or just forgeting about them," Frecklington continued. "Now, because we can send a digital version straight from our Showcase presentation to the prospect's inbox, it's the first thing they see after our meeting, and probably the reason that we're getting more interest in our offering."
TNP's experience reflects the impact mobile technology is having on the financial services sector.
Rik Turner, senior analyst at Ovum and author of a report on Tablet Adoption in Corporate Banking and Wealth Management, stated; "The financial sector as a whole has come out of the global crisis with an urgent need to rebuild its credibility with a disillusioned public. In certain sub-verticals such as wealth management more "face-time" with the customer can help this rebuilding process."
Though it's still early days for Showcase, the industry trend looks encouraging. Tablets (mostly iPads) are rapidly replacing or supplementing laptops across all areas of business, as employees bring their devices from home to work, and IT departments allow the devices on local networks. Over 250 million tablets are expected to sell world-wide in 2015, many to enterprise customers.
The full account of TNP's experience with Showcase is available for download at: http://www.showcaseworkshop.com/customer-case-study-tnp/.