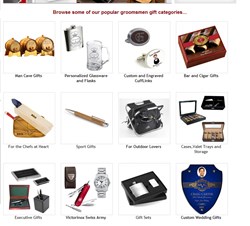 The groom needn't worry about his wedding day. Groomsmen.com has the bases covered with a huge selection of unique and custom wedding gifts.
Orlando, FL (PRWEB) October 01, 2013
Wedding Occasions only happens once, so make a big statement with unique gifts from Groomsmen.com. Treat important people with custom wedding cufflinks on this special day and thank fathers, groomsmen, best man, friends, and wedding guests with impressive gifts they'll truly appreciate, such as:

Custom and engraved wedding cufflinks for the wedding party
And more
Grooms, you know that on your wedding day nothing can say "thank you" better than a sincere gesture, a gift from Groomsmen.com. Let's face it—ties and gift cards are yesterday's news. The thoughtful groom of today is giving out gifts they'll love and cherish, such as a flask, glassware, engraved memento, or custom keepsake.
Groomsmen.com makes it easy to shop for:
Groomsmen gifts
Best Man gifts
Usher gifts
Ring Bearer gifts
Dad gifts
Uncle gifts
Brother gifts
In-law gifts
And more
Man-to-Man
Groomsmen.com has a gift for both the little and big man in a person's life. That includes personalized gifts—such as pub signs, cufflink cases, watch boxes, and valet trays; engraved barware—such as glassware and flask items for ushers, and more; and custom wedding and engraved cufflinks in a wide variety of shapes and styles—from 18KT Vermeil rectangular to classic hexagon silver to the uniquely shaped top grade agate; Groomsmen.com has a variety of in-house designer lines as well.
A Gift for All Seasons
Turn to Groomsmen.com for a unique anniversary gift, wedding gift, bridesmaid gifts, and mother-of-the-bride gifts.
About the Company
Since 2007, Groomsmen.com has been outfitting grooms, ushers, and bridal party members with unique and exciting gifts. When it comes to the best online groomsmen gifts on the Web, there's no better place to shop than Groomsmen.com. They raise the bar with exceptional wedding and groomsmen gifts for the special dad, usher, groomsmen, brother, friend, or relative in your life.
Did you know?
? Groomsmen.com is the only site that gives FREE gifts when an order's total exceeds $750.
? Free shipping is given to orders of $150 or more.
? Discounts of 15% are taken off orders that total more than $250.
Groomsmen.com has been supplying great gifts for dads, uncles, grandfathers, brothers, in-laws, best men, and more. If you're looking for a unique groomsmen gift for the guy who has everything or that "hard-to-please" relative, contact Groomsmen.com.
For more information about Groomsmen.com, groomsmen gifts, best man gifts, usher gifts, dad gifts, ring bearer gifts, uncle gifts, grandfather gifts, brothers, or in-laws, please contact us directly:
Toll Free: (866) 980-1115
E-mail: info(at)groomsmen(dot)com
Or visit the company's website @ http://www.groomsmen.com