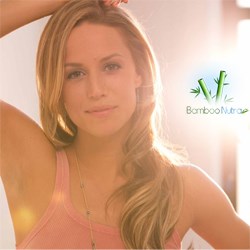 Denver, CO (PRWEB) October 01, 2013
After meticulously evaluating a great deal of promising candidates, Bamboo Nutra LLC is pleased to announce yoga icon and recognized model, Chelsey Korus, will host the Purity Cleanse. As the company progresses with a full head of steam en route towards complete retail and direct sales launch, the move serves as the final component to complete their series of exclusive fitness programs: Drop10, FIT By Nature, and Purity Cleanse, and also triggers the production stage for all three programs, which the company says will commence in November.
Bamboo Nutra states the Purity Cleanse is intended to help the consumer revitalize their body and mind through 3 weeks of daily yoga routines coupled with a cleansing diet and a 3-week supply of the company's by-nature: Cleanse, Probiotics and Detox Patches. The company feels that Korus exemplifies what the Purity Cleanse represents, and believes that she brings momentous enthusiasm and elegance to the program, along with an authenticity and deep-rooted passion for teaching that will fundamentally connect with any consumer demographic interested in the purification and balance of their body and mind.
With many years of involvement in a wide variety of modeling and television functions, Bamboo Nutra feels Korus' background will translate into an exceptional performance and final product in the Purity Cleanse. Korus has modeled trendy fashion lines for the likes of Fruit of the Loom, Vivienne Tam and Tennis star Venus Williams, has been highlighted by fashion giant Ralph Lauren in their Macy's special 'American Voices', and has guest starred on American soap opera 'One Life To Live'. 2013 has seen some of Korus' most notable performances including; a feature for Intel's recently released 'Ultrabook', which also took her on their 'Experience Intel: Look Inside' world tour; she has graced the screens of Live! Kelly & Michael during the Kelly & Michaels Fitness Challenge, and has been featured for GNC's 'Me on GNC: Respect Yourself' campaign.
Korus stated of the recent engagement by Bamboo Nutra, "I am so thrilled to be involved (with the Purity Cleanse), and I can't wait to get started. I have a passion for teaching people yoga and healthy living. This program gives me the opportunity to do just that. Through Purity Cleanse I have the ability to provide the same level of connection as I would teaching a personal class, which is very important to me. We are all on this journey together and it begins with choosing health and happiness for ourselves. Once we've done that, we can change the world around us."
About Bamboo Nutra LLC
Bamboo Nutra is a global Health Supplement and Lifestyle Company focused on promoting the positive benefits associated with natural bamboo silica and healthy lifestyle options. The company is established around the philosophy that "nature is life", and was built on the principle that ingredients created from nature are the foundation of improved mental and physical well-being.