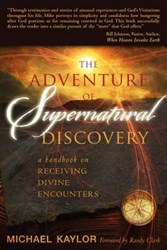 God never intended you to live like everybody else.
Shippensburg, Pa (PRWEB) October 01, 2013
Team leader and advisory member of Global Awakening church, Michael Kaylor, and Destiny Image are set to release Kaylor's book, The Adventure of Supernatural Discovery.
"Normal Christianity has been redefined over the centuries. What began as a vibrant encounter with the Living Christ through the power of the Holy Spirit has often become formulaic and stale," said Kaylor. "For many Christians today, normal is mundane. Normal is average. Normal is boring. If this is you, then it's time for you to get a new normal."
In the book, Kaylor shares his personal testimony of redefining normal and stepping out on a supernatural adventure that transformed His relationship with God… forever.
Kaylor said, "God never intended you to live like everybody else."
In this book, you will see that God's vision of normal Christianity includes:

Prophetic dreams and visions
Impartations
Uncontainable joy
Divine appointments
Supernatural healing and miracles
Interviews, review copies and giveaway copies are available upon request.
Kaylor is the senior pastor of Rivergate Church in Ft. Lauderdale, FLA as well as an international speaker, and author. He is also a team leader and advisory member for Randy Clark's Global Awakening and has been in ministry for forty years. Together with his wife Cherrie, Kaylor has planted several churches in the United States, and co-labors with pastors across the world including Austria, Germany, Czech Republic, Hungary, Romania, Brazil, Columbia and Africa, to empower the church to bring cultural transformation and revival.
Destiny Image, located in Shippensburg, Pa, was founded in 1983 by Pastor Don Nori, Sr. It seeks to accurately represent authors who have a call to share God's present word to His people and to make these authors easily accessible to the Christian body around the world in every form of media possible.
For press inquiries, interviews and review copies:
Kristen Adams
(717) 532-3040, Ext. 135
kadams(at)norimediagroup(dot)com