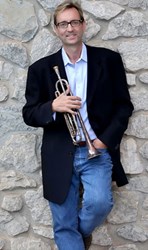 "It all started here," Hooten said. "Duncan gave me that beginning base that served as a foundation for my success. It always feels like coming home when I get on (U.S.) Highway 81."
Duncan, OK (PRWEB) October 01, 2013
Grammy and Emmy-nominated musician David B. Hooten, a renowned trumpeter who was raised in Duncan, Okla., is presenting a rare appearance in his hometown.
"It all started here," Hooten said. "Duncan gave me that beginning base that served as a foundation for my success. It always feels like coming home when I get on (U.S.) Highway 81."
Hooten's "Comin' Home " concert will be held at the Simmons Center's Jack A. Maurer Convention Center in Duncan on Saturday, Oct. 19 at 7 p.m.
Hooten lives in Oklahoma City and makes appearances throughout the world as a guest trumpet soloist in recitals and with symphony orchestras all year. He has played for kings and queens, presidents ,and in 1999, at the Vatican for Pope John Paul II. Hooten is also known for using his talent to help numerous nonprofit organizations raise millions to benefit children.
"His talents extend beyond the instrument itself," former Lt. Governor Jari Askins has said of the acclaimed musician.
Concertgoers will also enjoy the sounds of Oklahoma guitarist Edgar Cruz. Cruz has received numerous civic acknowledgments for his contributions to various charitable events. Those who have witnessed Cruz's performance immediately become entranced at the precision, speed and complexity with which his fingers strike the strings of his guitar to create a symphony of sound unusual to just one instrument.
Tickets for this event can be purchased at the Jack A Maurer Convention Center office or by calling 580-252-2900 ext. 240. Ticket prices are $19.95 for general admission and $14.95 for students. Seating is limited, so make plans to attend this rare performance today.
The concert is being sponsored by Tilley Trucking LLC, Bank of Commerce, Chisholm Corner Convenient Stores, Jan-L Construction Company, Grantham Funeral Home, Ace Hardware, Goodner Supermarket, and more of your local businesses. If you would like to become a sponsor, please contact Rachel at 615-499-9098.
For ticket information, contact The Duncan Convention and Visitors Bureau at 1-800-782-7167 or at http://www.duncancalendar.com.