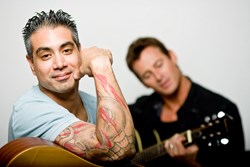 Fort Lauderdale, FL (PRWEB) October 02, 2013
Dyce Kimura has been playing guitar for 28 years, and his passion for music is only rivaled by his passion for sharing music with others. His gregarious nature makes Kimura an exciting and able guitar teacher, and he is now bringing his expertise to the internet by way of Skype guitar lessons. Via Skype, Kimura is able to interact with a wider range of individuals, including students well outside the Fort Lauderdale area. As part of the launch of his Skype guitar lessons, Kimura is offering 50% off the first lesson when you mention this article. Using Skype is an exciting venture to Kimura, who hopes the practice will bring him into contact with potential musicians all over the world.
As a guitar instructor, Dyce Kimura aims to meet his students where they're at by assessing playing ability, technique, and theoretical knowledge at the beginning of each block of lessons. From there, Kimura is able to consult with the student to see what their goals are, so that together they can work towards those goals. Kimura sees learning guitar as a process with many parts. While he can easily teach a single song to a student, the journey of truly learning how to play guitar engages a variety of practices such as ear training, reading sheet music, and learning music theory. Kimura believes that when all of these components come together, a true musician is born.
By virtue of his 27 years of guitar playing experience, Dyce Kimura considers himself to be an authority on the subject. By undertaking the teaching of Skype guitar lessons, Kimura seeks to share his expertise. Says the Fort Lauderdale guitar teacher, "I want to give people every incentive to learn to play guitar. Music has brought me so much joy over the years, and if learning via Skype will help more people to engage with the instrument, then I want to facilitate that." Kimura is also excited by the prospect that teaching via Skype could allow him a peek into life in other states, or even other countries. By teaching and playing guitar with a diverse community and in this form, Kimura sees himself as truly innovating on the practice of music instruction. " I don't need to be in the room to teach," says Kimura. "All I need is to feel the excitement and passion coming from the other person."
About: Dyce Kimura is a professional musician based in Fort Lauderdale, FL. Interested parties can learn more about Kimura and his Skype guitar lessons through his official website.