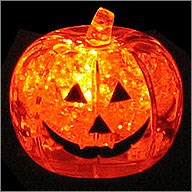 Glow in the dark party supplies add to the mystique of a spooky Halloween night!
Los Angeles, CA (PRWEB) October 02, 2013
Glowsource.com has everything a person needs to throw the best Halloween glow party this season. Glow in the dark party supplies add to the mystique of a spooky Halloween night. Guests can even accent their costumes with one or more of the glow accessories available from the company.
One of the best benefits of including glow sticks and other light-up accessories in a Halloween party is the instant fun that these accents create. The atmosphere set from the fluorescent glow of LED party supplies instantly puts people in the mood to party. These accessories are perfect for party guests of all ages.
Products that are available just in time for the Halloween season include:
Pumpkin Litecube - These cute little pumpkins can flash or stay lit and are functional as ice cubes in a drink. Anyone who just wants a fun accent around the house can opt to place them on shelves instead of utilizing the ice cube function.
LED Flashing Mouthpiece - This light-up mouthpiece is a cool addition to dozens of different costume choices. The fang option can be used as the perfect touch to a vampire costume.
Giant Chomping Electroluminescent Skull - Party-throwers can use this skull as a spooky decoration with the included lawn stake. A handle is also included to turn this versatile party addition into a chomping mask.
Glowing LED Foam Stick - These sticks come in bulk so everyone can get in on the fun. Blinking action can be used on the dance floor during a Halloween bash. Foam sticks are great for drawing attention during a crowded party.
Glow in the Dark Duct Tape Cats - Who knew that duct tape could be so perfect for a Halloween party? Use this duct tape as a last-minute decoration or as a surprising accent to the refreshment table.
Giant Light-Up Beach Ball - Glow balls take glow in the dark accessories to the next level. Guests get to participate in activities that are enhanced with the use of glowing party supplies.
Blacklight Shot Glasses - Halloween parties that are for adults can always benefit from glow in the dark cups. These shot glasses are specifically made to react under a black light.
About Glowsource.com
Glowsource.com offers customers a selection of glow sticks and LED party supplies to add that extra touch to any type of party. Wholesale and bulk quantities are available to give customers an opportunity to take advantage of discounted prices. Glowsource.com is the most complete source of glow in the dark party accessories.
Glowsource.com started out in 1999 by introducing light-up drinkware that could be conveniently ordered online. The aim of the company is to liven up customers' parties with low-cost, memorable and fun glow products. Providing superior customer service to people for over 13 years has helped Glowsource.com grow to become the premiere source for glow party supplies.
Contact:
Glowsource.com
Whitney Callahan
(323)878-1280
whitney(at)glowsource(dot)com