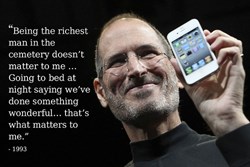 'Surround yourself with the dreamers and the doers, the believers and thinkers, but most of all, surround yourself with those who see greatness within you, even when you don't see it yourself.' - Steve Jobs
Philadelphia, Pennsylvania (PRWEB) October 11, 2013
The Bio-Views executive team is working around the clock, revamping its current user interface with tons of new features and functions that are unlike any other social network. These changes to the Bio-Views social network will make user interface the most simple, but yet impressive form of social networking the world has seen. Some of the features that the Bio-Views team is incorporating into the website is all based on user functionality, making the use of social networking more significant for both personal and professional use.
For professional use some of the new features being incorporated into the website include the promoters program, owning an online channel, GroupBuy, and E-commerce. The Bio-Views promoters program is a way to help promote other channel owners and bring in new channel owners to the Bio-Views social network. When bringing in a new channel owner the promoter receives 20% of the sign-up fee of that user and 5% residual income from that user's channel. Starting your own online business through Bio-Views is very simple. There are three different levels of being a channel owner on Bio-Views: Trainer, Professional, and Master. A trainer, when owning a channel on Bio-Views, is someone with no certification with a low start-up cost of $59.99, which is a one-time fee. The users' channel sells for a low price of $1.49 as a monthly subscription cost. The users' profit on each subscription at the Trainer level is 60% of the channels revenue.
Professional channel owners are someone with a degree or certification which is required. When creating a Professional channel, it has a low startup cost of $79.99. A Professional channel sells for the price of $4.99 on a monthly subscription. The profit for a Professional channel owner is 70% of the channels' revenue. The final channel owner level is a Master. To be a Master channel owner on Bio-Views the user must have both a degree and certification. The cost to be a Master channel owner is $99.99, which is a one-time fee. A Master channel sells for $9.99 on a monthly subscription basis, and the profit for that channel owner is 80% of revenue. The next feature the Bio-Views team is bringing to the table is GroupBuy. This feature is for channel owners, larger companies, and corporations, so that other users can purchase featured deals at discounted rates based on their business analytics and sales data. The charge per deal is a low 10%. Bio-Views wants the business owners to be able to actually make money, not lose. Another feature Bio-Views will be incorporating into this massive revamp is E-commerce. E-commerce is owning an online business that sells products directly to the user globally. Traffic will be easier to gain because people will be socializing and broadcasting new products. By broadcasting new products it allows people around the world to find users and buy their products directly on Bio-Views, which will also help boost your conversion rate. The fee for a sale on E-commerce will be $0.79 per sale. Unlike most companies, Bio-Views wanted to keep it simple for the business owner and user. Some of the new features that the Bio-Views revamped website establishes are music on the user's profile, using the user's current location to find friends and their location, and having the current weather broadcast for the following week. Bio-Views incorporates the idea of having users gain more freedom on this new and upcoming social network. The chat system the Bio-Views team is releasing is designed by arrowchat. This chat is very similar to the system Facebook uses on their current website. Some of the features that Bio-Views will be having this chat system is video chat, chat rooms, a full admin panel, announcements, pop out chat, themes, user options, mobile support, and guest chat. Arrowchat has the highest rated and most powerful chat software developed. With arrowchat's scalable platform, it allows the chat to run on a separate server so it does not affect website functionality. The Bio-Views social networking platform integrates both high-responsive and video elements in its chat system.
The user will be able to see when other people are typing in a conversation. Users will also have access to our chat room. The Bio-Views chat rooms offer a full set of individual features separate from the basic chat system, password protected chat rooms, moderators, and kicking of users within the chat room. This is just a few of the brand new features being integrated into this new chat system.