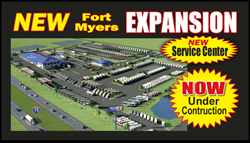 ...we are excited about bringing on some of the industry's most talented people to our team as well as discovering and training ambitious newcomers...
Ft. Myers, FL (PRWEB) October 11, 2013
Over the last 26 years, North Trail RV Center has steadily grown from a 5 person, mom and pop business to a thriving, family owned and operated corporation now dominating the RV market in South Florida as well as the entire nation. With over 180 employees in 3 locations and sales exceeding 120 million dollars annually, their success has been built on a strong, conservative foundation and solid business practices like finding, training and retaining the best employees in the industry.
Construction crews are working at a feverish pace to complete stage one of their multi-million dollar expansion along the I-75 corridor in Ft. Myers, FL. All new, state of the art facilities are being built to accommodate the growing demand for RV's and RV service that explodes during the winter months here in sunny South Florida from local Rv'rs and snowbirds alike. Over 70,000 square feet of buildings, including a 21,000 square foot sales center, covered service bays and work areas, motorhome express lube, 50 foot automatic motorhome wash and more are planned on over 75 acres of land development.
With all of this growth and expansion, jobs are being created and filled daily from entry level to key management positions.
In preparation for another record breaking season, the award winning service department at North Trail RV Center has recently added another top level, seasoned service manager to its team. Industry veteran Steve Roddy will now be in charge of managing a team of technicians that will focus entirely on existing guest service as well as walk-in service needs. Derek Marks, service manager at North Trail for the last 5 years will lead his team of technicians on their mission of preparing and servicing all new coaches for delivery to new North Trail RV Center guests.
Roddy, one of the founding instructors for the Florida RV Trade Association's On-line Distance Learning Technician Training Program, will also be heading up a 40-week, in-house training series starting next month. Technicians will attend additional training sessions every week for 40 weeks in this program and at the end will be tested to obtain their RVIA/RVDA certification. "This is an excellent way for North Trail to provide an even higher level of quality, consistent service to its guests and also will benefit these hardworking technicians by continuing their education and adding certifications to their credentials," says Roddy.
With over 41 years experience in the RV business, Roddy has worked for RV manufacturers, as well as managed service departments for large, multi-location dealerships. "We are very excited to welcome Steve Roddy to our service team here at our Ft. Myers location.", says Alan Erp, owner of North Trail RV Center. "This expansion, along with our top notch, dedicated staff is going to make North Trail RV Center and South West Florida an RV destination for the entire country. Our guests come here for the best inventory selection and high level of service that we provide. We will have the newest, cutting edge equipment and facilities in the nation and we are excited about bringing on some of the industry's most talented people to our team as well as discovering and training ambitious newcomers that are willing to learn and work hard towards a thriving future as part of the North Trail family."
For more information about North Trail RV Center or positions available, please visit http://www.northtrailrv.com or call 1-888-819-9973.
About North Trail RV Center
With coast to coast locations, North Trail RV Center is South Florida's largest RV dealer. With over 50 million dollars of inventory in stock, North Trail RV Center features the best RV manufacturers in the country such as Tiffin Motorhomes, Newmar, Fleetwood, American Coach, Heartland RV, Thor, Winnebago, Keystone RV, Pleasure Way, Airstream and Jayco. For over 26 years the locally-owned, family business has grown to employ over 180 people in 3 locations throughout South Florida. With major facility expansions underway now in Ft. Myers, North Trail RV Center will continue to be South Florida's number one, full-service RV dealer for many years to come. 'Like' us on Facebook at http://www.facebook.com/northtrailrv.
Media Contact:
Jennifer Sabella
Public Relations
1-888-819-9973
###