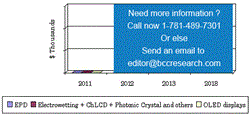 Wellesley, MA (PRWEB) October 01, 2013
According to a new technical market research report, Global Markets, Technologies and Applications for Flexible Displays from BCC Research (http://www.bccresearch.com), the global market for flexible displays was valued at $39.1 million in 2012 and is expected to reach $204.6 million in 2013. BCC Research projects that this market will grow to $2.6 billion by 2018, and register a five-year compound annual growth rate (CAGR) of 66.2%.
Flexible electronic displays can be bent, rolled, and twisted, without damage or adverse effect on its functionality. After several years of uncertainty, flexible display applications such as e-readers, notebooks, mobile phones, signage, tablets, and e-papers now appear poised for commercialization across a diverse range of sectors. The idea of lending flexibility to such a powerful communication mode as a display is rich with the potential of extreme and diverse revenue streams.
During the past few months, the market has been agog with excitement generated by announcements made by two electronic giants regarding their plans to introduce smartphones with flexible displays in the near future. These announcements are the first meaningful public confirmation of the commercial debut of flexible displays in a critical market. As the market is clearly in the fledgling stage, there is a compelling need to clarify the nature of technologies and stakeholders that are driving flexible display commercialization. The stakeholders driving flexible displays also need to have a firm grip on the market potential of individual applications internalizing the technology in key country markets spread over diverse geographical regions.
Present-day display technologies that use a rigid base have set the bar very high in terms of picture quality, rich video support, technology upgrades, and competitive pricing. Accordingly, commercialization of flexible displays hinges squarely on the successful synthesis of a flexible substrate. Present-day candidates for flexible substrate materials are derived mostly from organic molecules and compounds. However, because of poor temperature resistance capabilities inherent in these substrates, designers cannot apply mainstream semiconductor fabrication techniques. Indeed, the search for alternative fabrication techniques has led stakeholders to look to other areas, including the printing industry. Consequently, BCC Research expects that the initial years of flexible display commercialization will be dominated by applications that are not too demanding on video capabilities and form factors.
This technical market research report from BCC Research provides a comprehensive overview of the global market for flexible displays. It examines global market trends, with data from 2011, estimates for 2012, and projections of compound annual growth rates (CAGRs) through 2017. In addition, the report studies the technology involved in this market, including organic light-emitting diodes (OLEDs), electrophoretic, and electrowetting. The report offers a breakdown of devices in the market such as e-readers, notebooks, mobile phones, signage, tablets and e-papers. An examination of the market by region, including the Americas, Europe, Middle East, and Africa (EMEA), and Asia-Pacific is also provided along with comprehensive company profiles of major players in the industry.
Display emission technology specialists can use this report to directly assess the market potential of their products, while supply-chain constituents of flexible back-ends can use the report to evaluate technologies and applications for focusing their marketing efforts. This study will also benefit application device original equipment manufacturers (OEMs) and help them to ascertain the quantitative difference that flexible displays will make to their products.