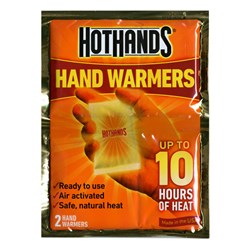 These Hothands are air activated warmers...
Hudson, CO (PRWEB) October 15, 2013
Dogs Unlimited is introducing the HeatMax product line of HotHands Hand Warmers, Insole Foot Warmers and Body Warmers to the upland and waterfowl hunting community. These environmentally friendly, single use warmers use a specifically formulated combination of ingredients like iron, activated carbon and water to produce an air-activated heat source that is comfortable and constant.
As Alan O Davison, owner of Dogs Unlimited, says, "These HotHands air-activated warmers are just the ticket on those days in the field when the air temperature is low enough to make hunting uncomfortable. Whether you're walking or blocking, sitting in a blind or standing in a marsh these HotHands products will keep your hands, feet and body toasty warm."
Made with an adhesive backing, the Insole Foot Warmers can simply be attached to the sock on the bottom of the foot or directly to the sole of the boot while the Body Warmer should be placed on a shirt near the chest area for optimum body core warmth. With these types of products it's always advisable to read the directions on the package before use.
"Most of the HotHands product line Dogs Unlimited carries will give in excess of 8 hours of continuous warmth giving a hunter a full day's worth of warmth on a single use. How great is that!" continues Davison.
So if you're an avid outdoors person, hunter or do any recreational activities in colder weather, the HeatMax HotHands line of products at Dogs Unlimited are perfect for you.
Dogs Unlimited, founded in 1971, is located in Hudson, Colorado. They can be reached at 800-338-DOGS (3547) or by going to http://www.dogsunlimited.com.