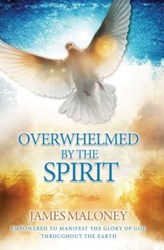 Get ready to experience His presence and power like never before!
Shippensburg, Pa (PRWEB) October 15, 2013
Best-selling author and minister, James Maloney, teams up with Destiny Image to release his next book, "Overwhelmed by the Spirit."
"If believers want to accomplish the Great Commission and see nations brought to Christ, it is absolutely essential that they work with the Holy Spirit," said Maloney. "His presence and power is non-negotiable!"
In this book, James Maloney draws from years of theological training and powerful testimony, to help the reader:

Scripturally understand who the Holy Spirit is and how He works;
Discover gifts and callings;
Experience supernatural strength in areas of weakness; and
Walk in the miraculous and lead others to Christ
Maloney helps the reader form a better understanding of how to fulfill individual divine destiny through the Holy Spirit.
Maloney said, "Get ready to experience His presence and power like never before!"
Interviews, review copies and giveaway copies are available upon request.
Destiny Image, located in Shippensburg, PA, was founded in 1983 by Pastor Don Nori, Sr. It seeks to accurately represent authors who have a call to share God's present word to His people and to make these authors easily accessible to the Christian body around the world in every form of media possible.
FOR PRESS INQUIRIES, INTERVIEWS AND REVIEW COPIES:
Kristen Adams
(717) 532-3040, Ext. 135
kadams(at)norimediagroup(dot)com