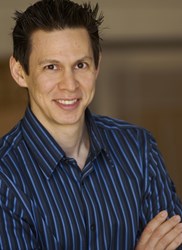 "I've used Don's sales techniques for the past year and have increased sales by 30%!"
San Jose, CA (PRWEB) October 08, 2013
People First Productivity Solutions, a San Francisco Bay Area sales training and consulting company, is pleased to publicize the October 12th broadcast of CONNECT! Online Radio Show for Professional Sellers. This extraordinary broadcast welcomes Don Cooper, "The Sales Heretic," to the show as he shares, "10 NEW ways to increase your sales." Cooper will describe his original ideas for boosting sales without rehashing any dogma, cliches or platitudes. He delivers fresh perspectives and pithy, practical, proven strategies in a most entertaining fashion.
Cooper is a sought after speaker who has developed a new game plan no salesperson should miss out on. His popular programs include Selling in Tough Times, How to Grow your Sales in a Shrinking Economy, Never Sell Ice to Eskimos, A Practical Program for Powerful Prospecting, Talking Your Way Into the Sale, How to Create and Deliver Powerful Presentations and The Physics of Closing. He will speak with Deb Calvert, president of People First Productivity Solutions and host of CONNECT! Online Radio. As they explore new and effective ways of increasing sales, Calvert and Cooper will take listener questions live on air and will also answer questions submitted beforehand via email. Call in to submit specific questions to these sales industry thought leaders. This broadcast promises to entertain, enlighten and inform. To tune in on Saturday morning, go to the CONNECT! page at blogtalkradio.com, and to call in live, dial (347) 202-0896.
This program will also be available for download at Connect1 on iTunes or at the link above after the broadcast. You can listen to the archived recording of this broadcast as well as tuning in to hear a variety of topics and guests previously featured on the program. To access the archives, go to People First Productivity Radio Shows.
CONNECT! Online Radio Show for Selling Professionals, part of the CONNECT! Community by People First Productivity Solutions, is a bi-weekly broadcast provided to help sellers "Ignite their Selling Power in Just an Hour." The CONNECT! community provides discussion groups, books, blogs and other resources for selling professionals, leaders and emerging leaders, trainers, coaches and individuals. Founded in 2006 by former corporate Sales and HR Executive Deb Calvert, People First Productivity Solutions operates with the mission: "We Build Organizational Strength by Putting People First."