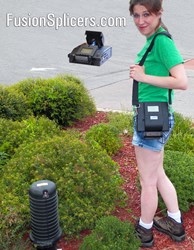 "An easy-to-use, lightweight and complete fiber splice kit"
(PRWEB) October 02, 2013
Fusionsplicers.com, a division of Tyrosys® Corp, launches the EFS-150, a rugged fusion splicer encompassed in a convenient, and affordable, buy package.
Small, light-weight and very durable, the EFS-150 becomes more than just an arc splicer, it can become your business.
"If you search at online job sites for "Fiber Splicer" you will find hundreds of available jobs. This is a niche in the market that needs to be filled," says Bill Chapman, CEO of Tyrosys® Corp. "We have been waiting 12 years for just the right product. The EFS-150 is fast, and the faster you can splice, the more work you can do, which means the more money you can make."
Fusion is the melting of two fiber optic cable ends into one solid glass fiber with a minimal loss. Beginners, or those who need a refresher, can go to Fusionsplicers.com's Education Center to read basic information about fusion splicing.
Designed to be a simple and reliable tool, the EFS-150 is essential for any new or experienced fiber splicer of any skill set. The EFS-150 has been designed to be affordable without sacrificing quality.
An all-inclusive kit, with everything needed for the job:

Uni-body Arc-Fusion Splicer
A Pair of Single-mode and Multi-mode V-groove Holders
Rear Bolt-on Sleeve Shrink Oven
A Fiber Cleaver and Fiber Stripper Tool
80 splice Battery Pack and Power Supply Unit
AC Line Adapter with Power Cord
RS-232 Cable with Software Drivers and Manual
Carrying Case with Multi-use Shoulder Strap
Field Cleaning Kit
Made in Sweden, with a service center in North Texas, the EFS-150 is low maintenance but, also includes the assurance of a 1-year warranty if required.
"We are excited that all the warranty work, maintenance, cleaning, etc. will be performed right here in North Texas. No long wait shipping to and from international locations," Bill says. "We understand that this is your business and we want to get you back to work as soon as possible."
Complete EFS-150 kits are already boxed and ready to ship from our North Texas Service and Sales center now at a special price of $3,950.
Visit http://www.fusionsplicers.com for more details or to watch a virtual demo (it's fast!)
Also find them on LinkedIn at http://www.linkedin.com/in/fusionsplicers
A Territory by Technology® of
Tyrosys® Corp
406 N Center Street
Bonham, TX 75418
1-877-TYROSYS (897-6797 or 0797)