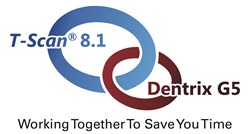 Real-time synchronization with Dentrix G5's patient database!
South Boston, MA (PRWEB) October 23, 2013
Tekscan is pleased to announce T-Scan® Software version 8.1 now integrates with Dentrix G5*. T-Scan® 8.1 features updates that will deliver significant improvements to T-Scan®'s functionality and usability. The major update to the T-Scan® software is the announcement of an integration package with Dentrix G5 (a Henry Schein practice management solution).
T-Scan® 8.1 now has the capability of real-time synchronization with Dentrix G5's patient database. With this integration, doctors will only need to enter the patient's data information once, helping to save time in the operatory.
Dentists who are currently using Henry Schein's DentriXlink add-on will still be able to open the T-Scan® software through Dentrix; the T-Scan® 8.1 software will not interfere with DentriXlink.
For more information on the Dentrix G5 integration please visit Tekscan's FAQ Webpage- http://www.tekscan.com/T-Scan8.1faq or call Tekscan 617-464-4500X420.
*Additional charges apply
About Tekscan, Inc. - Dental
Tekscan, Inc. is the manufacturer of The T-Scan® Bite Force System. The T-Scan® is a diagnostic device that measures relative biting forces, including occlusal force, timing, and location and is an ideal complimentary tool to articulating paper. For more information, please call 800-248-3669.
About Henry Schein, Inc.
Henry Schein, Inc. is the world's largest provider of health care products and services to office-based dental, medical and animal health practitioners. The Company also serves dental laboratories, government and institutional health care clinics, and other alternate care sites. Henry Schein employs nearly 15,000 Team Schein Members and serves approximately 775,000 customers.