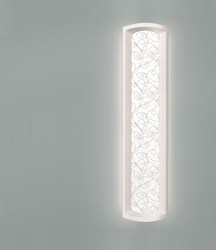 We designed this beautiful sconce at the request of our customers. They expressed interest in a sleek sconce that would be ADA compliant and complement our Auracyl sconce, and we listened. - Jim Hawkins, President
Gurnee, IL (PRWEB) October 08, 2013
Kenall Lighting, a leading provider of commercial lighting solutions, is affording architects and designers the flexibility to add one-of-a-kind lighting to any project with the launch of its new decorative, durable sconce. The Low Profile Sconce is a blend of sleek, classic design built with state-of-the-art technology and delivering high performance. The low profile sconce can be configured with a variety of lens and frame finishes, including a custom option.
"We designed this beautiful sconce at the request of our customers," says Jim Hawkins, Kenall president and CEO. "They expressed interest in a sleek sconce that would be ADA compliant and complement our Auracyl sconce, and we listened. Together, both of these sconces give architects the ability to maintain design consistently throughout the facility."
The Low Profile Sconce is sealed for infection control, making it ideal for healthcare environments – entryways, corridors, patient rooms, MRI suites – and other applications requiring sophisticated, comfort lighting with trusted performance.
Additional features of the Low Profile Sconce include:

NSF2 listing to support ease of cleaning and infection control;
ADA compliant, edge-lit design;
Seamless die-cast, marine-grade aluminum frame in multiple finishes;
Available in 1', 2' and 3' lengths;
Surface and semi-recessed low profile mounting options;
Frosted diffuser standard; custom graphics available;
Dimmable LED lifetime (L70) of 70,000 hours;
2700K, 3000K, 3500K and 4000K color temperatures available;
MRI option with non-ferrous housing, remote power supply and 24VDC.
To download the Low Profile Sconce brochure, visit us on the web at http://www.kenall.com. Email info(at)kenall(dot)com or call 847-360-8200 to request a demo.
About Kenall Lighting
Celebrating 50 years of lighting innovation, Kenall Lighting, located in Gurnee, IL, produces and supports high quality and durable lighting solutions for the most demanding environments. Since its inception in 1963, Kenall has been known for superior quality, exceptional value, and durable solutions, and it is proud to provide sealed lighting for containment or clean spaces, security lighting for detention facilities, and specialized healthcare and transportation applications. Kenall products are manufactured in the USA and meet the guidelines established under the Buy American Act and the North American Free Trade Agreement. For additional information, visit http://www.kenall.com.