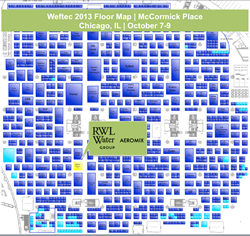 We are committed to making RWL Water Aeromix the best in the Packaged Wastewater Treatment Industry.
Minneapolis, MN (PRWEB) October 01, 2013
RWL Water Aeromix, the global leader in aeration systems and packaged wastewater treatment plants, announces a special training session hosted at Weftec to highlight the company's newly acquired Tipton Series packaged plant designs. The training will be led by Fred Tipton, a new member of the RWL Water Aeromix team and former President of Tipton Environmental International, Inc.
"Tipton Environmental International's growth and leadership in the Wastewater Treatment industry is a direct result of developing and maintaining the highest standards of quality with respect to design, materials, manufacturing and operating techniques," said Tipton. "We are committed to making RWL Water Aeromix the best in the Packaged Wastewater Treatment Industry," Tipton added.
Fred Tipton will be joined by other RWL Water Group staff and water professionals from around the world at 4pm on October 7th at booth 4026 during the annual Water Environment Federation's Technical Exhibition (WEFTEC) in Chicago. WEFTEC attracts thousands of water quality professionals from around the world and offers the best water quality education and training available today. Recognized as the world's largest annual water quality exhibition, WEFTEC's massive show floor provides unparalleled access to the field's most cutting-edge technologies and services.
Visit booth 4026 to learn how RWL Water is gaining capabilities through industry leaders.
About RWL Water Group
RWL Water Group is a water, wastewater and waste-to-energy systems integrator founded by Ronald S. Lauder. RWL Water is a rapidly growing global water solutions provider that will meet the world's increasing need for clean water through the utilization of advanced water purification and recycling technologies.
The company has designed plants for clients on all seven continents to help industrial and municipal clients treat their complex wastewater effluents in affordable, energy efficient ways. With more than 6,000 sites installed in over 70 countries around the world, RWL Water has a reputation for fast deployment, deep engineering expertise, and worldwide references.
The company's core operations are strategically located in the Americas, the Middle East and Europe to provide rapid response through its network of sales, service, technical and engineering professionals worldwide. For more information on RWL Water Group and Aeromix, please visit http://www.RWLwater.com.
About Aeromix
Aeromix is a global leader for drinking water and wastewater treatment with more than 4,000 systems installed in over 70 countries worldwide. The company's award-winning aeration equipment and packaged wastewater treatment plants treat wastewater at military installations, commercial buildings, and institutions internationally. With its global reach and breadth of advanced technologies, Aeromix is committed to ensuring that customers receive quality water and wastewater treatment solutions.
To learn more about RWL Water Aeromix or to set up a meeting with RWL Water Group executives at Weftec, please contact Samantha Kelman.